Over the summer, Louis Vuitton unveiled a newly expanded megastore in South Coast Plaza in Costa Mesa, California. Designed by Peter Marino, the house's resident architect, it boasts the largest single-level retail floor in the Americas. That's quite the feat!
With many brands lamenting the state of retail today, Louis Vuitton has forged forward, changing our expectations of what a store can be and do. Fans will delight in South Coast Plaza being now home to the first-ever in-store atelier in the United States. No longer will they have to travel to Paris to make their customization, personalization, and restoration dreams a reality.
The luxury house has long expressed the art of travel, and Marino embraced that notion, transforming the 3333 Bristol Street location into a true travel destination. Rich materials were incorporated into the design, referencing Louis Vuitton's long history and skilled craftsmen. That is deftly mixed with a contemporary take on California codes. A new facade of laminated glass and shining copper complements carbon fiber shelving—a nod, no doubt, to the state's high-tech industries.
The light unique to California is let in through several new skylights that flood the two-story site with a natural glow. Natural tones and textures add to an airy feel, complemented by a number of art and design items.
Art is central Marino's design practice, and so it is at South Coast Plaza. "We always work to select artwork that represents different countries and continents. Louis Vuitton is a very forward-thinking company when it comes to its engagement with the art world and thinks globally," said the architect.
The brand commissioned a 27-foot striped surfboard by Peter Dayton, installed alongside Farhad Moshiri's bead-embroidered Girl with Orange Lips, a large-scale photo by Richard Misrach, and specially chosen works by Anselm Reyle, Aaron Curry, Serge Alain Nitegeka, Damien Hirst, and Polly Apfelbaum.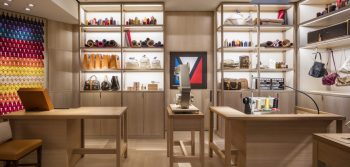 "The choice of the artwork was driven by a desire to echo and play off the architecture and the immediate context, a link to Louis Vuitton's heritage of travel—and the climate and culture of Southern California," said Marino
The contemporary art is complemented by a special presentation of Louis Vuitton's collection of unique travel collectibles and furniture, the "Objets Nomades," which are colorful, playful, and innovative. Customers will find the Cocoon chair and Bomboca Sofa by the Campanas, the Concertina foldable chairs and tables by Raw Edges, the Bell Lamp by Barber & Osgerby, and Atelier Oï's Tabouret Stools.
In addition to a full stock of all of the house's métiers—ready-to-wear, leather goods, shoes, accessories, textiles, watches, fine jewelry, fragrance, and home—will be items available only at the Costa Mesa location.
Specially created for the California consumer is a skater dress for women and the split hand Louis Vuitton print sweater and satin warm-up shirt for men. Visitors will also find the metallic leopard print Petite Malle, the Christopher backpack in crocodile, the Star Trail Monogram Ankle Boot with patches for women, and the men's Trocadero Richelieu sneaker.
But the real star of the show, at least in our opinion, is the upstairs atelier. As the only of its kind in the United States, it is a game changer for Louis Vuitton's American retail presence. Handmade personalization is a longstanding tradition—seen as early as some of the first travel trunks. On site will be a full-time painter, available to create custom motifs for all hard-sided travel pieces.
A workshop and resident artisan studio offer clients the experience of Louis Vuitton's atelier atmosphere, a chance to see its skilled craftsman in action, personalize new purchases, and restore cherished items.
With the reopened Costa Mesa South Coast Plaza location, the French fashion label has managed to create the ultimate savoir-faire experience for its current and future followers.