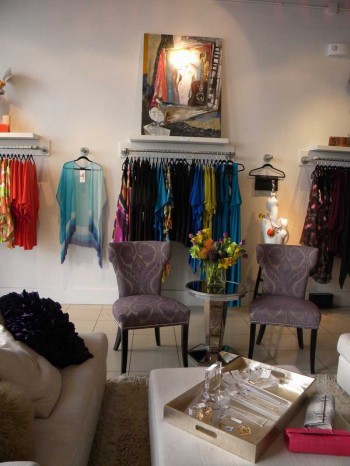 Tucked in the center of the upscale West Village Shopping Center in Uptown Dallas is the newly opened Abi Ferrin Boutique. Inaugurated on Tuesday, March 25, 2014, it is the first ever free-standing store for designer Abi Ferrin and her eponymous label.
"It's fitting that we open our first boutique here in Dallas," said designer Abi Ferrin when FashionWindows caught up with her an hour before the gala opening. "We are based here in Dallas, everything is designed and manufactured here in Dallas."
Originally from Wyoming, Abi actually began her label in Los Angeles but moved here in Dallas in 2005 where she found a better fit for her designs. And with a burgeoning clientele, staying and expanding the business here at the Big D was an easy decision to make.
"Abi Ferrin is about a feeling and a vibe. It's about being adventurous and standing out in a crowd," explained the designer when asked what makes her label tick and a favorite among Dallas fashionistas.
"I'm inspired by the women I dress like Jan Reese-Jones who is a true muse. I'm also inspired by the works of Alexander McQueen. He is the best designer, bar none."
And as if on cue, Ms. Jan Reese-Jones walked in. And so did Linda Cooper of WFAA's Today Show. As more women came in, it became obvious that Abi Ferrin is not only their designer of choice. Abi is also their friend.
So, it's not surprising that the boutique is like a living room where girlfriends meet for their tête–à–tête. And with all the artwork on display (which also happens to be for sale) the boutique is also a gallery. To women, shopping is a bonding ritual. Abi Ferrin brings that rite front and center.