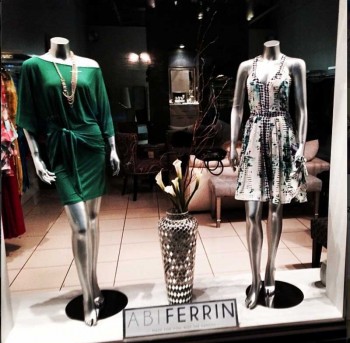 On Tuesday, 25 March 2014, Dallas-based fashion designer, Abi Ferrin, launches her flagship store in Uptown's trendy West Village Shopping Center in Dallas.
The Abi Ferrin flagship store is a living room within an art gallery. Beginning with the signage and the door handles guests will be immersed in a creative experience, which will never grow old.
Sculptor Brad Oldham created the signs and door handles exclusively for the brand and helped curate the look and feel of the interior to create the ambiance of the gallery boutique.
Featured art will include everything from the unique designs of Abi Ferrin, which invoke signature prints created exclusively for the brand by Brooklyn based artist Abby Lichtman, to work displayed by artists throughout the space that will be rotating on a quarterly basis.
The new sculpture collection of Ro Diaz will be shown from launch through June, and the one-of-a-kind pieces will be available for sale from the store with 50 percent of the proceeds going to the Freedom Project. New York mixed media artist Banks Pappas will be launching a fashion collaboration with Abi in April.
The boutique is located in the West Village Shopping Center at 3699 McKinney Ave., Suite #103, Dallas, TX 75204.
Photo by @abiferrin Instagram