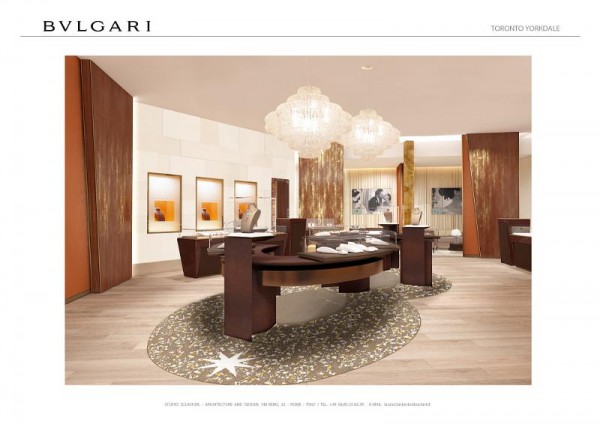 NEW YORK, Nov. 14, 2014 / — Bulgari, the contemporary Italian jeweler and master of coloured gemstones, announces the opening of its first boutique in Canada, within Toronto's Yorkdale Mall.
Renowned for its distinctive and richly hued jewels and timepieces, which have adorned kings and queens, movie stars and more, Bulgari will carry the brand's full portfolio of products including jewelry, accessories, watches and fragrances.
From Bulgari's iconic collections of Serpenti, DIVA, MVSA and Monete within jewelry, accessories and watches to one-of-a-kind high jewelry pieces, each piece represents the brand's undeniable craftsmanship and style.
This milestone marks a special moment for the 130 year old brand, as it brings Bulgari's Italian roots and spirit of excellence to a new market. "Bulgari represents the ultimate in craftsmanship, creativity and innovation," said Jean-Christophe Babin, CEO of Bulgari. "We are thrilled to open this store and to bring that extraordinary combination to Canada in a manner that perfectly represents the modern Bulgari brand while still paying tribute to our rich Roman heritage."
The new Toronto store comprises of 1,800 square feet, and draws its inspiration from Bulgari's storied history, utilizing Mediterranean marble and stone, and many of the brand's signature architectural elements.
The exterior facade is remarkable for its design aesthetic and its magnificence, with oversized windows and soaring marble columns of richly coloured Gris Pulpis marble pilasters and Trani Chiaro stone, with the BVLGARI logo backlighted on the cream stone.
One of the brand's key design elements, the Condotti eight point star, lies on the store entrance. A universal symbol of balance, harmony and cosmic order, the eight lines are symbolic of the four cardinal points (North, South, East, West) and time (two solstices and two equinoxes). As per the legend, the star means "Roma Caput Mundi", meaning that all the routes lead to Rome. In fact, the original star is part of the original flooring inside the historic Bulgari via Condotti store in Rome. The iconic star is a unifying symbol found in all Bulgari boutiques around the world.
In the main central area, an eight-shaped infinity counter is an invitation to browse the shop and to explore the Bulgari collections of jewels. On top of them, two Murano crystal chandeliers by Vistosi (Ecos, designed by the Venetian studio Renato Toso, Noti Massari e Associati) brighten the products and the atmosphere.
Further enriching the shopping experience, a truly personal touch is provided by the exclusive Bridal, Male, Accessories and VIP areas, where the most precious creations can be viewed in privacy. Walls are adorned with silk printed panels, expression of the brand's heritage and most famous VIP endorsements, including the legendary Elizabeth Taylor with Richard Burton, whose many visits to the Condotti store are well known.
The Yorkdale Mall boutique will also be the launching pad for the new Bulgari MVSA jewelry collection. This collection honors the muses of ancient Greece with an ensemble of 26 pieces – rings, necklaces, bracelets and earrings – that sing with colour. With daring combinations using blue topaz, amethyst, citrine, chalcedony, onyx, rubellite, pink quartz, prasiolite, tourmaline, tanzanite, mother-of-pearl and diamonds, the MVSA Collection embodies the Bulgari style. It is art, inspired by a feminine beauty.
Today part of the LVMH Group, Bulgari was founded in Rome in 1884 as a jewelry shop and progressively imposed itself with its magnificent jewelry creations, emblems of Italian excellence. The international success made the Company evolve into its current dimension of a global and diversified player in the luxury market, with a store network in the most exclusive shopping areas worldwide and a portfolio of products and services ranging from jewels and watches to accessories, perfumes and hotels.
The Bulgari Flagship Boutique in the Yorkdale Mall, Toronto opens on November 10, 2014. Store hours will be Monday – Friday: 10:00 a.m. to 9 p.m., Saturday: 9:30 a.m. to 9:00 p.m., Sunday: 11:00 a.m. to 7:00 p.m. The boutique phone number is: +1 (416) 784-1448.
Find out more about Bulgari and Bulgari collections at www.bulgari.com.