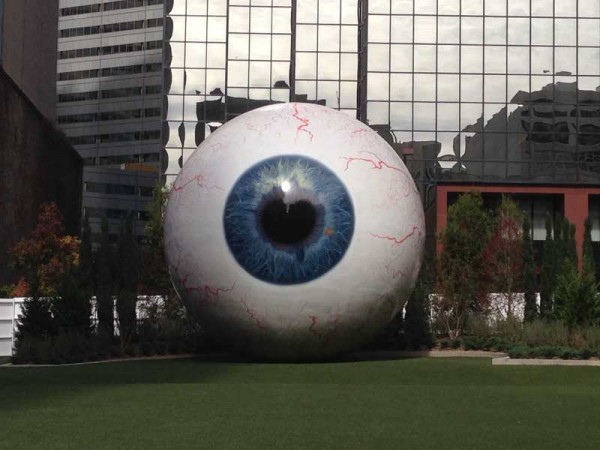 DALLAS, Dec 5, 2013/ — If you are a fan of "Person of Interest" then you are familiar with this quote:
Harold Finch: [Opening narration from Season One] You are being watched. The government has a secret system, a machine that spies on you every hour of every day. I know because I built it. I designed the machine to detect acts of terror but it sees everything. Violent crimes involving ordinary people, people like you. Crimes the government considered "irrelevant." They wouldn't act, so I decided I would. But I needed a partner, someone with the skills to intervene. Hunted by the authorities, we work in secret. You'll never find us, but victim or perpetrator, if your number's up… we'll find *you*.
This is the first thing that came to mind when I first saw the Dallas Eye. The workers were not even finished installing it yet. There were still heavy equipment and it was sitting on dirt.
Now, it's a "park" with green grass but no one can come in unless you have a key. As one passerby said, "It's a closed park". Another one said, "Oh, here's the creepy eye I was telling you about."
And mine is exactly how Harold Finch says it, "YOU ARE BEING WATCHED."
Location: Downtown Dallas
Date: Dec 3, 2013
Photo by Mari Davis