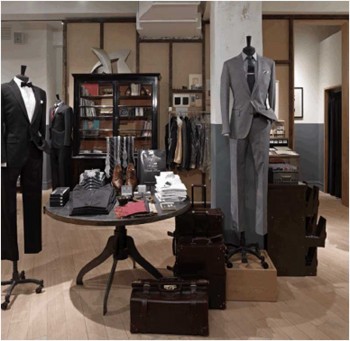 The date was February 29, 2012, that extra day of the year that makes it a leap year. That was the day that J.Crew decided to open its first Ludlow Suit Shop in Tribeca, around the corner from The Odeon and several blocks south of the Liquor Store,
Since the Liquor Store opened in 2008, the response to J.Crew's the suiting business in Tribeca has continued to expand and as a result has outgrown the space. It was the perfect opportunity to create a new home for the world of "The Ludlow" suit in the neighborhood.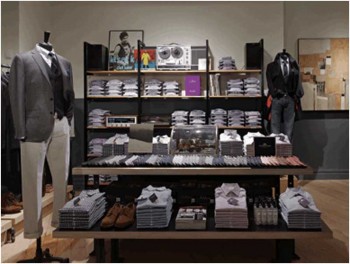 The new Ludlow Shop at 50 Hudson will house the largest assortment of Ludlow suiting and will also include complimentary collections such as: Thomas Mason for J.Crew shirting, Italian cashmere and a selection of shoes including Alden for J.Crew and Crockett & Jones.
The shop has the charm and service of an Old Haberdashery, but with an updated and modern look. The interior of the shop is lighter and loftier than the existing J.Crew Men's Shops.
The interior was inspired by a designer atelier live/ workspace. The décor is a mix of midcentury modern, industrial and 19th century antiques including a vintage Mies van der Rohe sofa, an original 1950's George Nelson for Omni shelving unit and 1970's Marantz turntable with a selection of vintage vinyl.
Steel industrial flat files that once housed architectural renderings and blueprints now display ties in the drawers and pressed shirting on top. The artwork includes a mix of limited edition prints by artists like Jasper Johns, Alberto Giacometti and Louise Nevelson.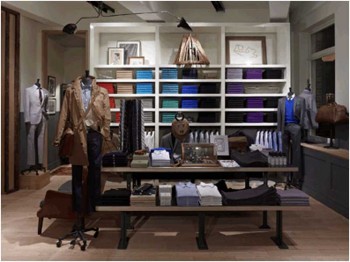 Since the launch of the Ludlow suit at the Liquor Store in 2008, the suit has grown significantly in popularity that men request it by name and purchase multiple suits per visit.
The Ludlow suits have the same old world details as the best Bespoke suits in the world – a floating chest piece, intricate pick stitching, luxurious Bamberg lining and are constructed from fabrics from the storied mills in Europe: Loro Piana. Harris Tweed and Abraham Moon.
The fit is also a part of the Ludlow's popularity. Many guys buy off the rack and wear the suit out of the shop without alterations.
In addition to the suiting, the shop will offer ties and dress shirt offerings to include slim and classic fits with spread and point collars, Thomas Mason fabrics in both – along with all of the trimmings – tie bars, Drakes pocket squares, Corgi dress socks, Alden for J.Crew, Crockett & Jones shoes.
Services
The Ludlow Shop at 50 Hudson will have suiting experts on site and will offer tailoring, monogramming & door-to-door courier service.
The Ludlow Shop at 50 Hudson
50 Hudson Street at Thomas Street
New York, New York 10013
Tel: 212.587.3139