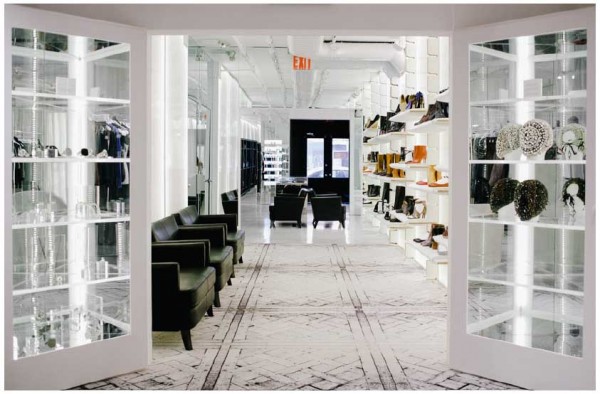 On September 2013, just in time for New York fashion week, the retrofitted Maison Martin Margiela women's boutique opened.
With "New Concept, New Space, New Collection" as its mantra, the the women's boutique has been redesigned expressing a luxurious persona with a luminous, comfortable and uncluttered setting. The space's concept, which was emphasized with the boutique's lighting, furniture and space, combined both the existing and all-new philosophies of the Maison .
ENTRANCE
The Line 13 objects were displayed in an all-black room behind white industrial glass casing.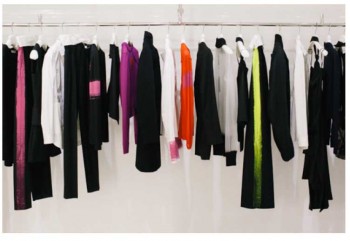 FIRST SALON
Accessories and small leather goods from lines 8 and 11 were presented in the "Lolo" armory or showcased on matt-mirrored platforms. Backlit walls emit light, while the floor is white, painted and wooden.
SECOND SALON
The current 'Défilé' collection was presented on chrome rods. Line 12 and accessories were displayed in angled, brightly lit cabinets. On the white wooden floor, black "Undersized" sofas allow a view of the space from both sides.
FOOTWEAR SALON
Line 22: Footwear was displayed on rolls of fabric, held in place by oversized grooved shelving. In the center of the room, white Maison Martin Margiela furniture could be found. Flooring consists of a black and white trompe-l'oeil carpet with a parquet de Versailles print. Mirrors in walls multiply and redirect one's perspective.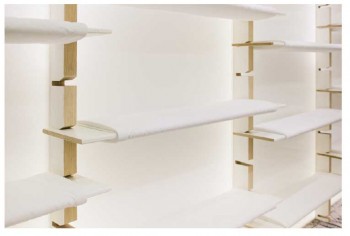 THIRD SALON
In the space dedicated to Lines 1 and 4, subtle surrealist nuances were explored in sheer curtains, a mirrored wall and the Maison's "Groupe" linen-draped sofas in white. A long table in reflective stainless steel completed the room. Three dimensional trompe-l'oeil effects were predominant in the fitting rooms with oversized mirrors and "wooden" wallpaper.
CONTACT
Maison Martin Margiela
803 Greenwich Street (at Jane street)
New York, NY 10014
Tel: (212) 989-7612
© Images courtesy of Hazel Kiesewetter