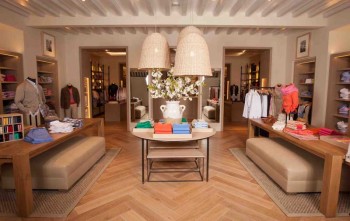 #FF: A fresh Mediterranean breeze settled on the Pacific Northwest on March 2013 with the opening of a new Façonnable boutique at the Bellevue Collection in the Seattle area.
Owned by Kemper Development, the Bellevue Collection epitomizes the culture and spirit of the region's rich northwest with 250 top retailers, department stores, the Hyatt Regency Bellevue Hotel, a flurry of cool dining choices and a buzzing nightlife.
Located just across Lake Washington on the eastside of the vibrant American city, the 3500 square-foot Façonnable store joined this upscale shopping, dining and entertainment venue, which has successfully captured the dynamism of the region.
Boasting a next-generation retail concept, the Façonnable boutique channels the inimitable French
Rivera spirit that has made Façonnable one of the world's most distinguished lifestyle brands. Natural wood floors, whitewashed walls, and flashes of blue stripes create an airy, intimate environment, much in line with the outdoorsy spirit of the area.
Within the well-appointed boutique, clients will find Façonnable's entire range of men's and women's collections. Known for its stylish, beautifully made clothing, at once of the moment and timeless, Façonnable is confident Washingtonians will overwhelmingly gravitate to its easy, luxurious and colorful approach to elegant sportswear.
Façonnable at Bellevue Collection
Bellevue Square – Level 1
575 Bellevue Sq, Bellevue, WA 98004
Phone: 425.454.0303