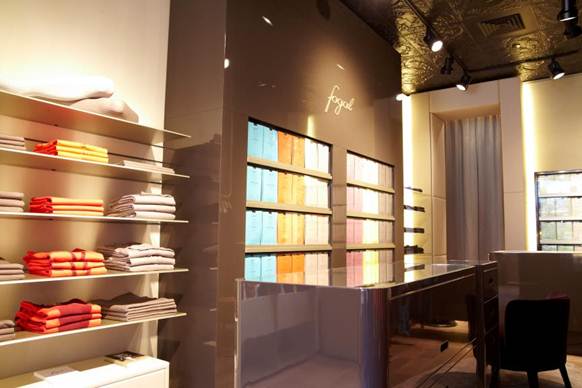 October 2012. Fogal opened its second boutique in New York located in Soho at 155 Spring Street.
The new outpost measures 538 square feet and mirrors Fogal's New Store Look, but there are special interior elements referring to Soho and its former interior elements like wooden parquet and tin ceilings.
Like used once in the location of 155 Spring Street we used now (new) tin ceilings with a feminine pattern in a warm dark metallic brown. The 'slabs' are used on the ceiling and on one wall as a background. The floor is dark warm wooden parquet.
Details about the general New Fogal store design, having started with the opening of the Flagship store in Zurich October 2011 and the NY Flagship on 785 Madison in December 2011:
THE NEW FOGAL STORES
FOGAL stores are getting a new look. The color scheme is champagne gold and taupe, while cream leather and filigree metal decorations give the interior its discreet charm.
An intimate interior has been created in close collaboration with FOGAL, one which gives the hosiery and knitwear a special setting. Cozy elegance is the description which comes immediately to mind. The softly upholstered wall coverings in cream leather take up the theme of being cocooned, and champagne-colored filigree metalwork takes up the curved "f" of the FOGAL logo. Restrained lighting and sand-colored stucco walls create an ambience of discretion.
Quality fittings in taupe-colored high-gloss paint provide presentation areas, while in the wall shelving, the subtly updated packaging with its new color scheme provides an additional color block. And another innovation: knitwear and legwear will now be presented together in FOGAL stores. Cardigans, twinsets, shawls and stockings will be stylistically harmonized – in line with the new total look from FOGAL, for which the new store design is the perfect setting.
For 90 years, FOGAL has stood for beauty, elegance and first-class quality. As a luxury brand for exclusive legwear and quality knitwear, FOGAL is established internationally with stores in 22 countries. High standards apply as much to aspects of design, materials, workmanship and wear comfort as to packaging and professional sales advice.