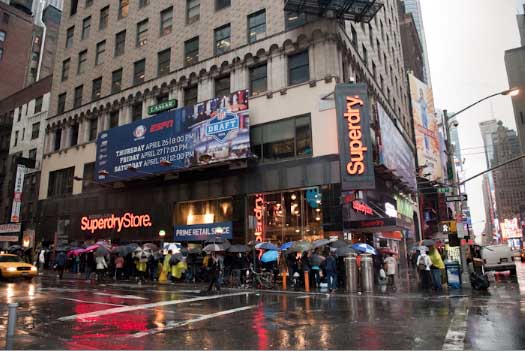 On May 9, 2012, Superdry USA debuted its largest North American retail destination to date with the unveiling of its two-story, 14,000-square-foot store in New York City's iconic Times Square. Hundreds of shoppers lined up overnight for a first glimpse of the store and a chance to win incredible prizes in celebration of the opening!
Located at 729 Seventh Avenue at 49th Street, the Times Square store marked the brand's third location in New York since 2009, joining South Street Seaport and on Broadway in NoHo.
Superdry Times Square offers a range of product categories that span men's and women's apparel, denim, swimwear, fragrance and a vast selection of accessories and footwear.
Catering to a cosmopolitan, trend-setting crowd, the store will carry signature styles including windcheaters, lumberjacks and leather jackets in addition to exclusive Times Square pieces, such as tin-tab tees, knitwear, dresses and lightweight scarves. Shoppers can swiftly check out by optimizing the iPod Touch portable check out system.