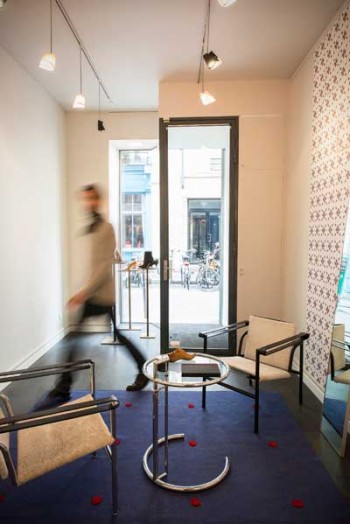 Sensual… This is the name of the new Fred Marzo collection, Fall/ Winter 14/15. Soft fabric, fur with calfskin treated like foal leather, dipped lambskin and python. The tones are warm and refined.
Other skins appear as more shiny, but also ho how much more glamorous. Three tones in nuances of gold to create contrast, another with a mirror effect. All that is needed to be seductive, perfectly subtly and delicately.
A stylish red line stamps all stilettos. Our brand image drives us to impertinence and mischief. Provocation and sophistication are the key word for each reference. Jabotte, Monique and Antoinette, each of the 18 models is given a name.
Glamorous shapes, typically feminine. Marked arches, various heels. Stilettos, (declined into Jabot stiletto, Gaiter stiletto,…), ankle boots;… This collection is an invitation, an invitation to elegantly wear shoes, just for pleasure.
The new boutique is a precious casing, a reflection of the creator. Stylish, pure, it highlights refined elegance.
Photos of the previous collections depict the Fred Marzo woman and adorn the store. A mini exhibit meant to evolve with the seasons, encouraging collaboration between designers.
Within this delicate and felted atmosphere, women feel receptive, careful of their own femininity. This feeling is rare nowadays, it is easy to appreciate. It puts the world of luxury into perspective.
Fred Marzo Boutique
11 rue de Thorigny
75003 PARIS