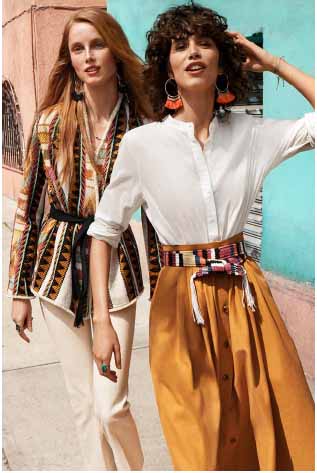 Continuing its expansion at the DFW Metroplex, H&M will open its doors on April 7, 2016 at its newest location at Sundance Square in Fort Worth. Measuring 32,000 square feet, the new location joins 23 other popular destinations in the state of Texas.
Opening Thursday, April 7th at noon, H&M at Sundance Square will give shoppers in the Fort Worth area access to the latest trends at the best prices. The new location will offer collections for ladies, men, young ladies, and young men with separate "store within a store" sections for accessories, maternity and sport apparel. The Sundance Square location will also carry H&M's children's collection, from newborn to fourteen years.
H&M prides itself on its support of local economies by adding jobs with each new location. As the company continues expanding in both new and existing markets, H&M constantly searches for new talent to grow within the company.
With the opening of the Sundance Square location, H&M is proud to add approximately 30 employees to the current, ever-expanding total of approximately 16,000 U.S. employees. In 2015, H&M was ranked number 21 on Interbrand's list of 100 Best Global Brands and was selected by Great Place to Work as a top 25 Best Multinational Workplace. In 2016, H&M was also named by Ethisphere as one of the World's Most Ethical Companies for the sixth year. For available job opportunities, please visit career.hm.com
Sustainability is an integral part of H&M and is the result of hundreds of small conscious actions taken by every person in the organization. In 2013, H&M was the first global fashion company to launch an in-store Garment Collecting initiative, collecting approximately 53.6 million lbs. of garments to date.
Through this initiative, H&M customers at Sundance Square can help save natural resources and contribute to a reduced environmental impact by donating unwanted pieces of clothing directly in the store. Year round, customers will receive a voucher for 15% off their entire next purchase for each bag of donated clothing.
In celebration of H&M's World Recycle Week taking place from April 18th to 24th, customers who donate clothes from April 7th through April 24th will receive an increased voucher for 30% off their entire next purchase, valid through April 27th. H&M was selected in 2015 as a U.S. EPA Green Power Leadership Award winner and placed 20th on the 2016 Global 100 Most Sustainable Corporations in the World index.
To kick off the recycling program on opening day, customers who bring garments to be recycled before the store opens at noon will also have the chance to win H&M gift cards valued between $50 and $250 in addition to the 30% voucher.
In celebration of opening day, H&M at Sundance Square will offer the first 300 shoppers in line an H&M t-shirt and Access to Fashion Pass, valued from $10 to $300, and the chance to win a meet and greet with Hailee Steinfeld at her performance on April 20th.
H&M at Sundance Square
420 Main Street
Fort Worth, TX 76102.
Tel: (855) 466-7467.
Store hours
Monday through Thursday 10:00am – 8:00pm
Friday and Saturday 10:00am – 9:00pm
Sunday 12:00pm – 6:00pm.