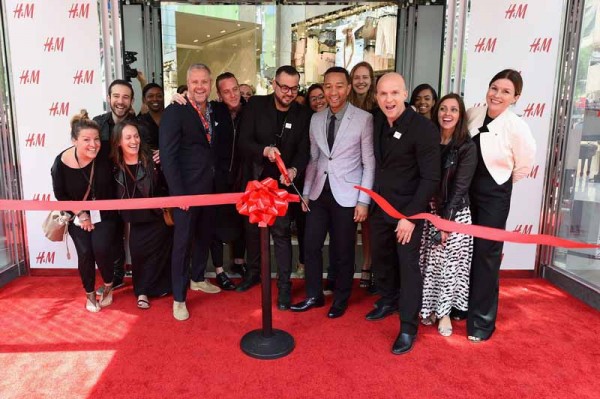 With over 1,500 shoppers and music fans alike eagerly waiting outside, the new H&M flagship opened May 20, 2015 with John Legend welcoming them at the door.
Guests who attended the event had the opportunity to be the first to view the location's exciting custom illuminated store front that wraps around 33rd Street, 34th Street and 6th Avenue and 63,000 square feet interior.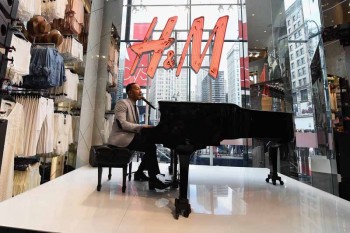 Additional features include a special shoe department for ladies and men, H&M Home Collection department, a custom-designed 35 ft. modern glass façade with LCD screen, mirror and terrazzo tile details, as well as an approximately 30 ft. high atrium on the second level.
And most important, they heard Academy Award, Golden Globe and Grammy winner John Legend perform. Twenty lucky customers in line were also chosen for meet-and-greets with the iconic singer.
"Only in New York City do we have the largest H&M store in the world," said John Legend. "I'm so honored to be a part of this special celebration for the brand and my city."
The store opened to the public at 12:00 p.m. on Wednesday, May 20th with a grand opening celebration. On opening day the first 1,000 customers in line received an Access to Fashion Pass valued between $10 and $1000 as well as giveaways and 20 lucky customers in line won a meet and greet with John Legend.
To further celebrate the grand opening, customers who brought garments to be recycled in H&M's Garment Collecting program before the store opened were entered to win gift cards valued between $50 and $100.
H&M was established in Sweden in 1947. Today there are 363 stores in the U.S. and approximately 3,200 stores in 58 markets worldwide. H&M at One Herald Square is the 13th store in Manhattan, employing over 1,400 people.
Photos courtesy of H&M