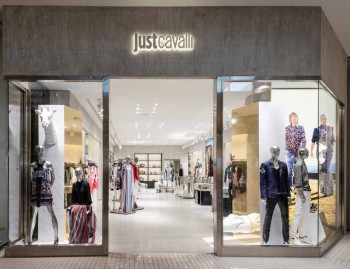 Opening its doors to the public on Saturday, May 16, 2015 at Aventura Mall in Florida, the new Just Cavalli boutique measures 1,800 square-feet and has the distinct characteristic of not having a door!
The layout of the store has been carefully designed in order to emphasize a context inspired by cosmopolitan spaces.
The opening of this boutique conveys the brand's retail expansion within the United States, as the very first Just Cavalli flagship boutique opened in October of 2013 in New York City's SoHo neighborhood.
The Aventura boutique will house the upscale brand's portfolio of glamorous and discerningly forward categories geared towards women and men whom set trends rather than following them. It will carry the men's and women's ready-to-wear collections, footwear, handbags, accessories, eyewear collections, jewelry, timepieces, undergarments, fragrances and smartphone and tablet cover collections which are inspired by the Just Cavalli decorative motifs.
The collections are hung from metallic industrial fittings made from aged steel and metal, or on very light displays hanging from the ceiling. The poufs and sofas, designed personally by Roberto Cavalli, are made with Just Cavalli fabric swatches. Mother-of-Pearl treatments exalt the imperfections reminiscent of cement flooring typically found in metropolitan lofts.
"Miami, especially Aventura Mall, is the perfect location for a Just Cavalli boutique. The vibrant energy of Miami goes hand in hand with what the Just Cavalli brand is all about," said Monica Voltolina, Chief Executive Officer of STAFF USA, Inc.
"Aventura Mall is the largest shopping center in Florida. It reaches fashion-savvy individuals from all over the world. The eclectic mix of trend-setting and fashion forward customers, combined with Just Cavalli's gutsy style and attitude, create the perfect marriage between demeanor and design," Voltolina added.
Images Courtesy of: Moris Moreno Photography