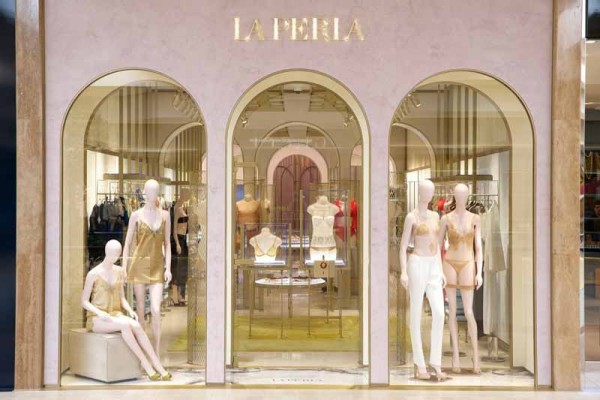 Lingerie as a second skin, capable of interpreting every facet of femininity – this has become a pillar of the international La Perla relaunch, with its acquisition by holding company Pacific Global Management, headed by Silvio Scaglia.
The company's new direction was reflected in the new image for its retail arm, which started with the flagship stores in Milan and London in February 2014 and unveiled on August 16, 2014 at the South Coast Plaza Boutique in Costa Mesa, CA. This location was the brand's first new store concept in North America.
The new design for the La Perla boutiques was the result of the work of architect Roberto Baciocchi, founder of the internationally renowned architectural studio with its headquarters in Arezzo. He also took the reins for all of the stores of Prada, Miu Miu and Church's.
The project was clearly inspired by great Italian architecture, and was put together by Baciocchi for La Perla. References to the work of Carlo Scarpa from the Castelvecchio Museum in Verona could be found in the soft, dusty coloured walls dressed in painted fabric, and in the display cases within the store.
The ultra-feminine range of colour shades, from pale blue, through dusky pink to daffodil yellow, plays on the luxurious essentiality of the hexagonal Portuguese marble slabs. Severity and softness are also found where the paving meets the rugs and silk tub armchairs in the same pastel tones as the walls.
The arch is one of the distinctive architectural elements of Italian art and here it becomes a backdrop lined in pink onyx inside each window. The La Perla creations are displayed in transparent cases with gilded metalhangers or presented to customers on velvet-lined trays.
One of the main features of the new La Perla project is the gateway in front of the fitting rooms: a symbolic element that marks this space devoted to intimacy, creating an exclusive place in which femininity reigns.
The fitting rooms, featuring amethyst-coloured walls, are defined by backlit tulle panelling, creating a light, mellow and comfortable space. Another element is the metal grate feature that recalls ancient confessionals, and a "Service" bell for calling a member of the sales staff.
Every boutique also has an espaceprive for VIP customers. Play, emotion, secrecy and beauty all blend together once again into a seductive alchemy.