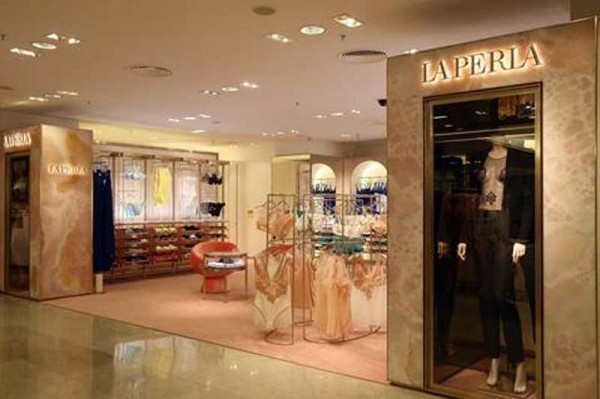 The La Perla space at Printemps in Paris is the first shop-in-shop to be refitted with the new image conceived by architect Roberto Baciocchi, founder of the renowned architectural studio based in Arezzo, who is also responsible for the new-look Prada, Miu Miu and Church's stores.
At the grand opening, there was a very special guest present: Malgosia Bela, the charismatic top model at the heart of the La Perla Spring/Summer 2014 campaign.
The project put together by Baciocchi for La Perla is clearly inspired by great Italian architectural tradition.
The range of ultra-feminine shades of colour in the amethyst floor and the tub chairs in silk velvet contrast with the refined simplicity of the sales counter and the grand entrance in onyx, shaped into an arch that mirrors the architectural elements characteristic of Italian art.
The La Perla creations are displayed in transparent cases with gilded metal hangers or presented to customers on velvet-lined trays.
One of the main features of the new La Perla project is the fitting room: devoted to intimacy and created as an exclusive space where femininity reigns absolute.
The walls are defined by tulle panelling, creating a light, mellow and comfortable space. Another surprise is the metal grate feature that recalls ancient confessionals, and a "Service" bell for calling a member of the sales staff.
Lingerie as a second skin, capable of interpreting every facet of femininity. This has become a pillar of the international La Perla relaunch, with its acquisition by holding company Pacific Global Management, headed by Silvio Scaglia.
The company's new direction is also based on a change of image for its retail arm, starting with its flagship and most strategic department stores.
"Play, emotion, secrecy and beauty all blend together once again into a seductive alchemy."