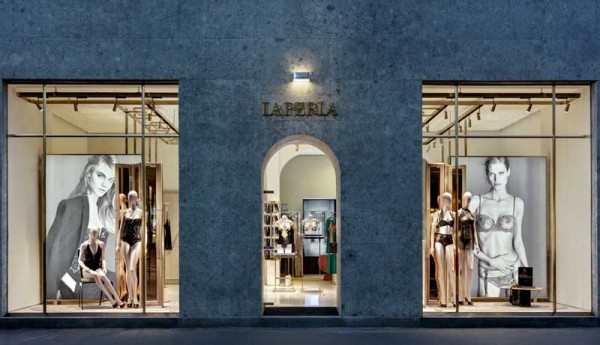 Just in time for the London and Milan fashion weeks, La Perla unveiled its new store concept in Milan and London this February as part of the brand's relaunch.
Recently acquired by holding company Pacific Global Management, headed by Silvio Scaglia, the company's new direction – lingerie as a second skin that interprets femininity, is reflected in a new worldwide store concept that was unveiled this week in the London and Milan flagship stores.
The new design for the La Perla boutiques is the work of renowned architect Roberto Baciocchi. Baciocchi is the founder of an international architecture studio and is credited with the design for Prada, Miu Miu and Church's retail locations.
Baciocchi's store concept for La Perla is inspired by great Italian architecture. The design includes references to the work of Carlo Scarpa from the Castelvecchio Museum in Verona both within the boutique's soft, dusty colored walls adorned with painted fabric and the interior display cases.
The feminine color palette from pale blue to dusty pink and daffodil yellow plays on the luxurious quality of the hexagonal Portuguese slabs. This juxtaposition is also seen in the contrast of the paving with the silk tub armchairs and rugs in pastel tones.
Arches, a distinctive Italian architectural element, are lined with pink onyx in each window. Throughout the store, La Perla garments are displayed in transparent cases on gilded metal hangers or on velvet lined trays.
The fitting rooms feature amethyst color walls backlit by tulle panelling to create an intimate and comfortable space. Additionally, the fitting rooms feature a metal grate, reminiscent of ancient confessionals and a service bell. Every boutique includes an espace privé for VIP customers.
This new concept will be unveiled in La Perla stores worldwide, including boutiques in Macau, Hong Kong, New York and Paris by Spring 2014.