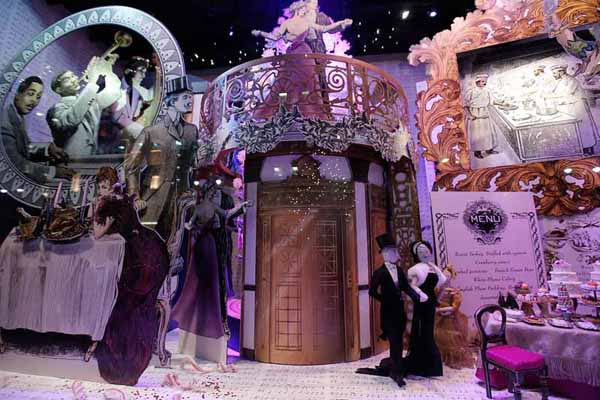 NEW YORK, Nov 15, 2013/ — Last night, Lord & Taylor unveiled its annual world-famous holiday windows that were inspired by vintage New York City, capturing the city's history of tradition and heritage.
The story begins with all of the excitement surrounding the holidays, from the celebratory preparations to the festive decor, including a scene from Lord & Taylor of customers shopping for gifts and getting ready for their holiday parties.
Within the animated scene of the store, the classic, holiday shopping experience is brought to life, with aisles gleaming in enchanting ornamentation and an abundance of holiday gifts overflowing from the shelves.
As you travel through the magically decorated store to the main floor, you will find Santa Claus interacting with children and families as they share their holiday wish lists. Men and women are fitted in their new holiday attire just in time to celebrate what was once a Lord & Taylor tradition of a leisurely afternoon lunch or teatime in the store's famous restaurant.
Following lunch, the shoppers then head to the opera or theatre to be regaled by the arts. The final window concludes the story with a couple celebrating a holiday evening together, exchanging gifts, and sharing a good night kiss after putting the children to bed.
"The annual holiday windows are our gift to New York City and I'm thrilled to share this special time of year with our customers" said Liz Rodbell, incoming President of Hudson's Bay Company Department Store Group, parent company of Lord & Taylor. "Next year marks the 100th anniversary of our iconic Fifth Avenue building and as a New York City landmark, it's fitting that this year's holiday windows celebrate the city."
Lord & Taylor's hundred-year-old iconic building and annual holiday windows have acted as host in the creation of many memorable family traditions.
Interesting Facts About the Holiday Windows
Next year marks the 100th anniversary of Lord and Taylor's iconic Fifth Avenue building.
During the holidays, over 250,000 people pass by the Lord & Taylor windows daily and between Thanksgiving and Christmas, over 8 million customers will visit the store.
The windows are created by a team of over 50 people over the course of nine months.
The window sets weigh up to 2,000 pounds and are the only department store windows on hydraulics.
The windows are created in a workshop underneath the Fifth Avenue sidewalk and are then moved onto street level.
Photos courtesy of Lord & Taylor