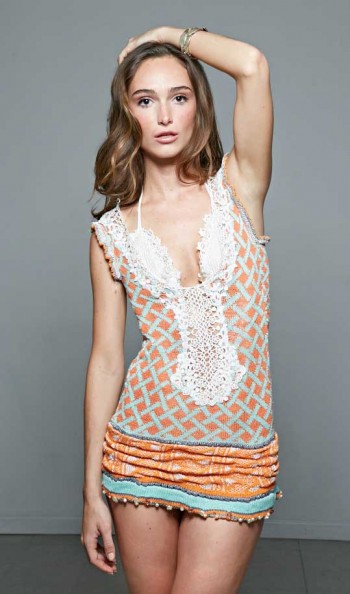 Maggie May Swimwear, the iconic knitted swimwear line announces the opening of its flagship boutique at 207 Avenue B in the lower East Side, New York City.
"I'm over the moon about opening my first boutique in New York," said Magdalena Trever, the young designer and creator of the innovative knitted swimwear/resort wear line. "My store is jam packed with many one-of-a-kind original bikinis, monokinis, dresses and palazzo pants, some of which were recently photographed by Sports Illustrated Magazine for the magazine's Swimsuit Edition.
I love this city and the wonderful people who live here. Everyone on the block has stopped by to welcome me to the neighborhood and wish me luck," said Magdalena, the "Maggie" behind Maggie May Swimwear.
Among the favorites in the boutique are the unique "monokinis", all hand knitted in the softest bamboo and silk yarns. Each monokini is richly adorned with genuine Czechoslovakian crystals, seed pearls and antique buttons.
"I inherited a couple jars of beautiful antique buttons from my grandmother," said Maggie, "and I've used many of them in my recent designs, both on the bikinis and the monokinis, as well as the dresses."
The Maggie May style is completely original and unusual both in color combination and over-the-top embellishment. Magdalena Trever is a degreed knitwear designer who started her company with her mother as a partner in late 2010. Her swimwear has graced the pages of numerous magazines, including the coveted Sports Illustrated Swimwear Edition, two years in a row.
"You will never see someone else wearing the same Maggie May dress or bikini," said Maggie. "Everything I do is an original design created as I go on a loom, yarn by yarn, detail, by detail."
The store is located at 207 Avenue B in New York. Hours are Tuesday through Sunday, 11AM-9PM.