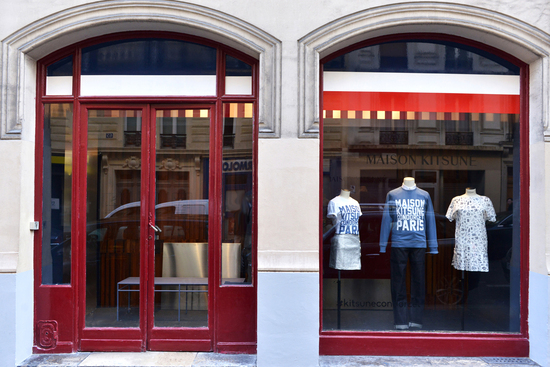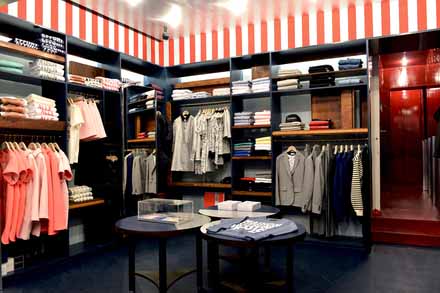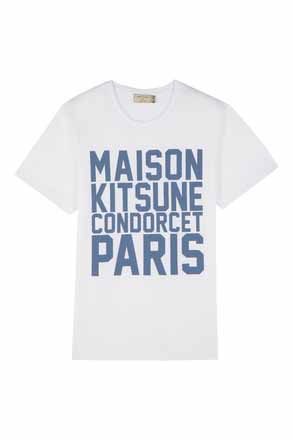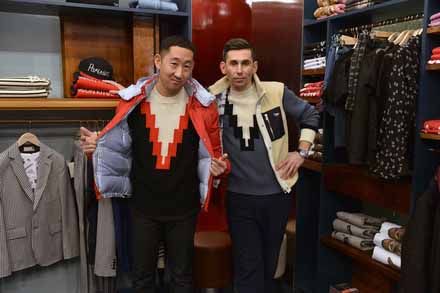 On Friday, January 23, 2015, Maison Kitsuné inaugurated its third address in Paris at 68 rue Condorcet in the 9ème arrondissement.
Listed on the Inventory of Historical Monuments, the building in which the boutique is housed was built in 1862 by the French architect Viollet-le-Duc. Conceived by Emiliano Salci and Britt Moran, founders of DIMORESTUDIO and recipients of the 2014 MAISON&OBJET Designer of the Year of Interior Scenes award, this 70m2 venue houses both men's and women's collections as well as a Café Kitsuné.
Inspired by the universe of Maison Kitsuné and by a shared passion for detail and the mixing up of genres, DIMORESTUDIO worked with Maison Kitsuné co-founders Gildas Loaëc and Masaya Kuroki to create a warm and functional space.
Here, complimentary colors and textures, simple lighting and materials, symmetrical lines and volumes are core concepts. Shades of lapis blue and carmine red are prominently featured; the walls, floor and doorways are swathed in a satiny aluminium.
Tables are rendered from stratified wood, in refreshing blue and ivory shades, while the chairs in Café Kitsuné are finished with amaranth fur. The wood, in a variety of species and dimensions, has been recuperated and remodeled to measure.
To celebrate this opening Gildas Loaëc and Masaya Kuroki, co-founders and creative directors, designed a Maison Kitsuné Condorcet Paris capsule collection. Inspired by the blue tones of the boutique, this exclusive collection is composed of a denim shirt made in Japan, a sweatshirt, a t-shirt and a tote bag.
For the inauguration, Maison Kitsuné teamed up with Belvedere Vodka that for this occasion created two custom cocktails, a "Spicy Kitsuné Martini" (Belvedere Vodka, home-made syrup – orange, cinnamon, cardamome, pepper, ginger – and café from Café Kitsuné) and a "Passionfruit & Mint Libation" (Belvedere Vodka, fresh passion fruit, maracuja juice, fresh mint leaves and a dash of sugar cane syrup).
With this new location, Maison Kitsuné now counts three boutiques and two Café Kitsunés in Paris, following on from those on the rue de Richelieu (1st), rue Madame (6th) and the Café Kitsuné tucked away in the gardens of the Palais Royal (1st).