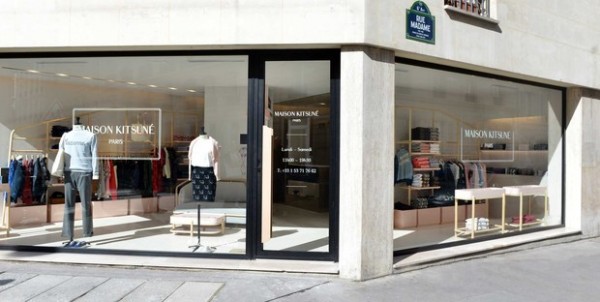 After settling in the 1st arrondissement with its Parisian boutique on rue de Richelieu and its Café Kitsuné tucked away in the gardens of Le Palais Royal, Maison Kitsuné officially opened its second boutique on 25th September 2014 at 38 rue Madame.
Just steps away from Le Jardin du Luxembourg and Saint-Germain-des-Prés, the new Maison Kitsuné boutique, conceptualized by design and architecture firm Numéro111, boasts a gentle ambiance with hues of beige and powder pink, which compliments Maison Kitsuné's eye-catching French flair.
The design, pure and simple, includes furniture created with rattan, the structuring material, which melds harmoniously with copper, leather and marble. These fine elements complement the boutique's exceptional elegance and sophisticated identity.
The concept for this intimate space is part living room and part boutique, infused with homelike elements, creates a welcoming and friendly atmosphere.
Above all, the new Maison Kitsuné boutique is an invitation to relax in a setting that unites the worlds of music and clothing.