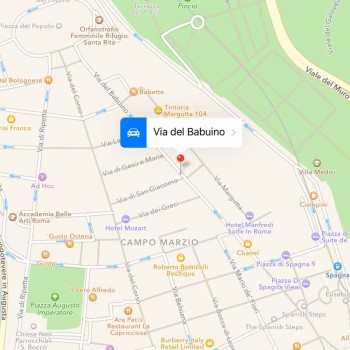 On September 11, 2015, Maison Margiela opened the doors of its first store in Rome at Via del Babuino. Located between Piazza del Popolo and Piazza di Spagna, the 295 square meters two-floor boutique is hosted in an ancient Roman building full of interconnecting rooms.
The concept of the boutique is based on a mirror effect, playing with the floors and the ceilings in order to create vanishing volumes and perspectives.
The décor is made of Haussmanian wallpapers, white marble, white confetti, white cotton, oak and chrome steel. A white horizontal line extends throughout the entire boutique, separating the boutique interior in two.
The ground floor of the boutique is dedicated to menswear and the first floor to womenswear. All of the Maison's accessory lines will be available at the boutique, leather-goods, sunglasses, fine jewellery, as well as the design objects. Two suites will be dedicated to footwear, one for women's, the other for men's.
Boutique Maison Margiela Rome
Opening Hours: Mon/Sun: 10am/7pm
Address: Via del Babuino 49,
00187 Rome
Telephone: +39 063233070
E-mail: romebabuino_store@margiela.com