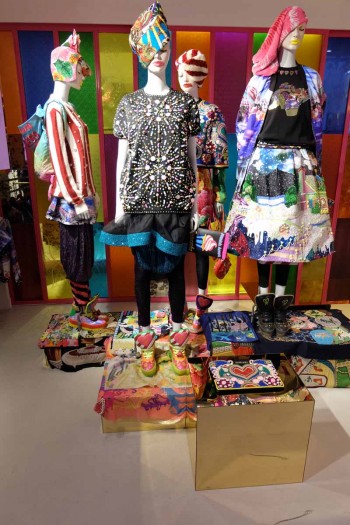 PARIS, Sep 25, 2014/ — Right after Manish Arora unveiled his Spring 2015 collection, the label's first ever flagship store in Paris at 5 rue Rouget-de-l'Isle I in the first arrondissement.
Located at 5 rue Rouget-de-L'Isle, between the Tuileries garden and rue Saint-Honoré, in an area reputed for its exclusive addresses and a stone's throw away from most Parisian palaces, the Manish Arora boutique is conceived as a natural extension to his Parisian home, with its colored glass panels, the pink and gold that sign all this collections, all distilled in-store on furniture, fittings and displays.
The store was imagined by the Milan-Paris based studio Riccardo Haiat (www.riccardohaiat.com), whose business focuses in the conception of boutiques, restaurants and apartments.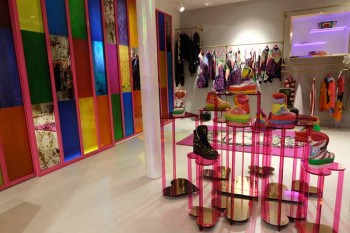 The architect wanted to combine the strong and coloured universe of Manish Arora with a pure and elegant touch that well integrates the Parisian context of the rue de Rivoli.
With its two street-facing windows, and its 130 square meters, the boutique features dual spaces of beautiful volumes.
Facing the street, there will be Manish Arora's ready-to-wear, his accessories and selected pieces from his Indian by Manish Arora collection (until then exclusive to the Indian market), as well as a curated selection of his favorite items: Varanasi toys or artwork, small trinkets or unique pieces, temptations of the day or of a lifetime.
At the back, the space will be dedicated to exhibitions, showroom presentation and private events, in relation with the enchanted world of Manish Arora.
By combining retail and exhibition spaces, Manish Arora will fully inhabit this location, marking it fully as his Parisian headquarters.
This colorful and joyous love story between Manish Arora and Paris began in 2007 with momentous runway shows that, beyond business, aim at restoring optimism and lightness to the down-and-out fashion public.
Beyond the runways and the Fédération française de la Couture, du Prêt à Porter des Couturiers et des Créateurs de Mode where he is a member, Paris has also become his second home. It was therefore natural for Manish Arora to open his first flagship in Paris.
MANISH ARORA BOUTIQUE
5 rue Rouget-de-l'Isle 75001 paris
Open from Monday to Saturday
From 11am to 7pm