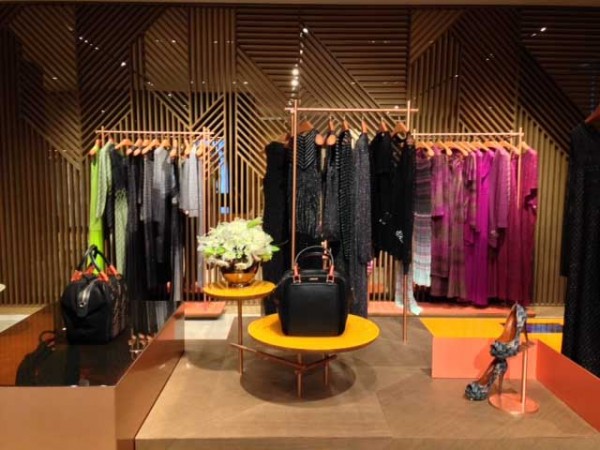 MILAN, Jan 10, 2014/ — Expanding its reach in the Middle East, Italian fashion house Missoni opened its first boutique in Saudi Arabia the Centria Mall, in the heart of Riyadh.
The new boutique follows the new concept at the Missoni boutiques in Milan, Harrods, London, Hong Kong, Delhi and Doha, designed in collaboration with the architect-designer Patricia Urquiola, to maintain the continuity and consistency of this project.
The concept brings to life the Missoni language with an environmental interpretation, playing on the tones and textures of different materials, from wood to etched mirrors and copper-finish metal to polychrome lacquers, creating an evocative, light and luminous environment, specially created to give fashion special visibility and emphasis.
Two side walls help define the space: the one on the right has been designed with backlit metal, a perforated and worked "screen" that winds its way towards an open space, culminating in boiserie. This woodwork covers a bronze mirror which has been added to the furnishing of the boutique as a way to expand the space and conceal the storage area.
The boutique is divided through a sequence of copper glass and mirror screens that help maintain the private area in the Women's collections, whilst also creating a space for the Girls' collection at the rear of the store.
The boutique covers 225 square meters and displays Women's, Men's, Children's and Beachwear collections.