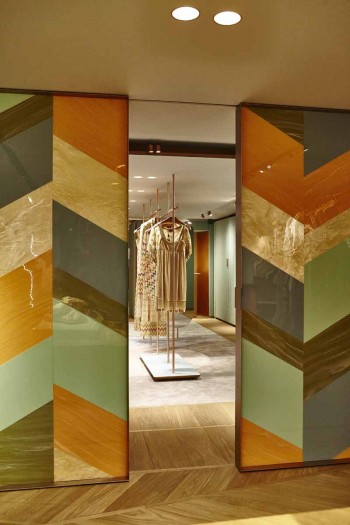 Throwback Thursday: On January 27, 2015, Missoni opened a new flagship store in Paris at 219 Rue Saint-Honoré.
The boutique, boasting over 300 square meters spread over two floors, represents the evolution of a design concept developed between Angela Missoni and Patricia Urquiola, that was created for the Milan boutique.
With two entrances – one on Rue Saint-Honoré and the other on Rue d'Alger – and nine tall display cases, the store is both contemporary and welcoming.
Inside, Missoni's tones and textures are applied in various ways to the materials – wood, Alicrite, metal and fabric – to create a unique space in which technology and tailoring merge. The outcome is a luxurious collage of stripes, zigzags and expanded motifs interpreted on walls and ceilings.
The Missoni models from the Women's, Men's and Girls' collections – the stars of this space – seem to levitate, hanging from the structures made of metal rods with a copper finish that takes up the company's rust-coloured trademark.
The accessories are arranged above and below the transparent shelves of large tables in different colours or in modular display cases. Elements from the home line complete the range of products and the layout of the boutique.
The project maintains all the main features of the Milan flagship store, but is distinguished by unique details tied to the 'ésprit de Paris'. Angela Missoni comments, "I have always wanted our boutiques in every city to have a different interpretation. For example, at the new flagship store in Paris greens and blues predominate in certain iconic elements such as the macro-zigzags on the walls.
For other architectural aspects, such as the soft lines of the staircase, the rounded corners of the ceilings, the lighting trellises and the point de Hongrie parquet flooring, we turned to the most classic French palaces and gardens for inspiration."
The opening was celebrated with an exclusive cocktail party at the boutique, where the Missoni family welcomed customers and the international press from the fashion and design industry, as well as the French VIPs.
For the occasion, the windows of the new flagship store were customized with Missoni's iconic zigzag in the pastel colours of the new Summer 2015 collection with a video installation specially created for the event by the Chilean artist Eduardo Guelfenbein.
Using his liquid technique, Guelfenbein animated the windows of the store's upper floor with vibrant hues imprinted on canvas in soft, tactile waves of colour.
Missoni
219, Rue St. Honoré
75001 Paris