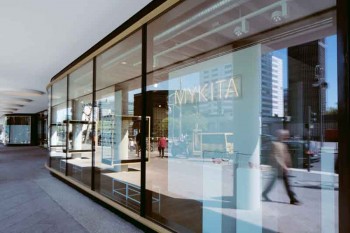 MYKITA goes west with the opening of their newest concept shop at Budapester Strasse 38–50, 10787 Berlin-West and thus making a total of 10 MYKITA free-standing store worldwide.
Housed under the roof of the Bikinihaus, the 1950s architectural icon of West Berlin, the new outpost takes inspiration from the building's aesthetics then merges it with MYKITA's well-known optometric precision and the exactitude of the "Made in Germany" label, resulting to a modern yet classic atmosphere.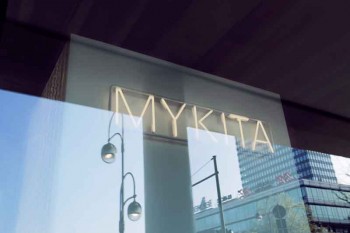 Here the concept of the readymade – objects removed from their original context – merges with specially designed furniture pieces and stage-like lighting. The result is a kind of installation, the simple and clear construction of which preserves the original character of the 1950s building.
The primary design element of the shop interior is the all-white MYKITA Wall. At 31 metres, it is the longest wall thus far and the first freestanding installation with a front and rear display. It comprises perforated steel angle beads that are reinvented from their regular function as heavy-duty shelving supports.
The resulting structure is backlit and serves as a presentation area giving the frames ample space around it. Individual shelf elements inserted into the wall provide each model with its own little stage. In addition, out-of-service flight attendant trolleys that have circled the globe a thousand times are given a new lease of life here as a storage facility.
The integrated Zeiss "Relaxed Vision Center" is a special lab equipped with state-of-the-art precision instruments from Carl Zeiss research.
Customers can consult the MYKITA in-house optometrist, who generates customised optical profiles and performs an exact adaptation of frame and lens to the wearer's face. At the open-plan workshop the lenses are cut and fitted to the frame. Quality, precision and products "made in Germany" are the common themes behind the partnership of MYKITA with the world- renowned optical solutions specialist Zeiss.
On the expansive and freely accessible 7,000-square-metre roof-terrace of the Bikinihaus the famously infamous Berlin spirit mingles with the noises of the Zoological Garden. From here – and from the MYKITA Shop – there is a direct view to the monkey mountain and other animals of the Berlin Zoo.
Aside from the MYKITA Shop Berlin-West, the eyewear manufacturer now has 10 shops worldwide including Berlin-Mitte, Cartagena (Colombia), New York, Monterrey (Mexico), Paris, Vienna, Tokyo, Zurich and Zermatt.
MYKITA Shop Berlin-West
Budapester Str. 30–50
10787 Berlin
Tel. +49 30 2847 4114
OPENING HOURS
Mon–Sat 10am–8pm