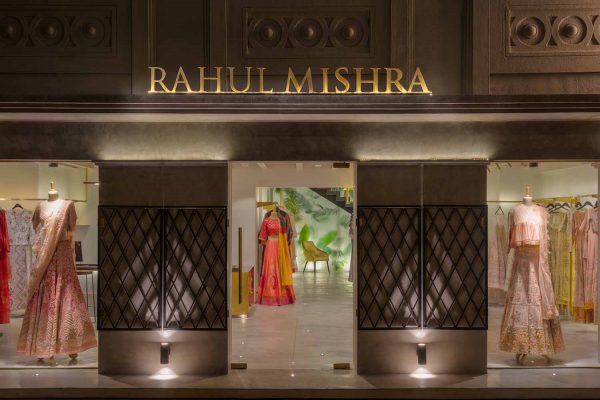 After Delhi in 2017, Rahul Mishra opened his second Flagship in Mumbai on November 2018. Located in the prestigious artistic district of Kala Ghoda, this new store presents the Ready-to-Wear and Haute Couture collections of the Indian designer.
In his own words: Designer Rahul Mishra describes the store:
It has always been my dream to open a flagship store in Kala Ghoda. When I worked with Animesh Nayak, the architect for this project, we wanted to create a space that carried that same vibe of Kala Ghoda into our store.
The idea was to create a grey cemented cuboid with accents of copper and wood, to give a very vintage feel- of something that is old yet very precious. There is also a sense of lightness which we wanted to bring about in the store, with the shadow play of the plants, adding freshness and a sense of contemporary design.
We wanted to explore the room structure which is typically very old Mumbai style, and we wanted to enhance it, while still retaining the original aesthetic by creating a loft ceiling. We also wanted to create interesting corners in the store that ask to be discovered by the viewer, an interpretation of the small little lanes in Kala Ghoda.
The minimalism and work-in-progress feeling of the grey cement texturing which runs from floor to wall, makes it almost like an art gallery, canvas-like space for our clothes, whether it's the India Couture Week collection or Paris Fashion Week collection, every garment is able to stand out as its own art piece.
Photos by © Fabien Charuau, courtesy of Rahul Mishra