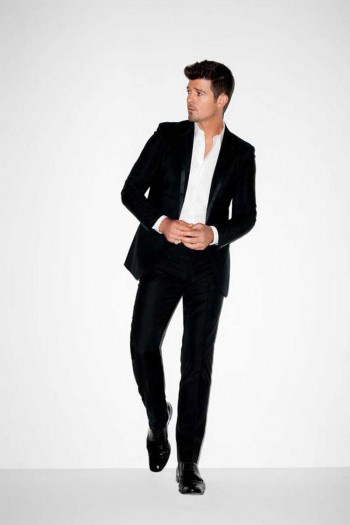 NEW YORK, Mar 25, 2014/ — Mark your calendars! On Tuesday, March 25, 2014, EXPRESS will open its largest store in the chain in New York's Times Square with Robin Thicke kicking off the celebration with a live performance.
"It's EXPRESS on steroids," said Michael Weiss, the chairman and chief executive officer of EXPRESS. "This is an elevated presentation where the homes for each category are much more defined. Our billboard, with 9,000 square feet of LED, is the biggest and highest-definition billboard in the whole of Times Square. You know nobody whispers in Times Square; they shout. And if you're going to shout, you'd better be the loudest."
The Times Square store is located in the landmark I. Miller building distinguished by its marbled frame and statues of iconic actresses including Marilyn Miller and Mary Pickford.
With over 28,000 square feet, the impressive location embraces the fast-paced and tech-savvy mindset of New York City with imagery boxes, LED walls and screens, interactive iPads, mobile points of sale, and on-site charging stations to enhance the shopping experience.
Divided into three levels of women's and men's collections, the store marks the brand's grandest location to-date with a design concept that elevates the brand's current high-fashion runway layout. Design elements include French limestone floors, white brick walls, Carrera marble fixtures, crystal chandeliers, glass vitrines housing noteworthy trends and two expansive escalators to transport visitors among the three floors.
To complement the bright lights of Broadway, the high-profile store boasts three larger-than-life imagery light boxes, providing a visually fashion forward backdrop as visitors ride the escalator to the second floor.
Robin Thicke will kick-off the retailer's grand opening event with a live performance on Tuesday, March 25 at 7:00 p.m. which will live stream on the EXPRESS billboards outside the store.
The four hour event will then feature a mobile-based "scratch and win" sweepstakes in which all event attendees are awarded a prize, ranging from Express GiftCards and merchandise, to packages from event partners Wine Awesomeness, Uber, Night Hotel and Pippin.
Select EXPRESS NEXT loyalty members will receive a golden ticket granting them a meet and greet with Robin Thicke and early access into the store to shop.
Follow the official event hash tag #EXPNYC for updates, and connect with Express on Twitter (@ExpressLife) or Instagram (@ExpressRunway).
EXPRESS TIMES SQUARE STORE
1552 & 1560 Broadway (Corner of Broadway & 46th Street)
New York, NY 10036
Phone: 646-448-8376
Store Hours: 9:00 a.m. – 2:00 a.m. EST