On the eve of the Spring 2016 season of New York Fashion Week, Rootstein Display Mannequins unveiled its newly minted "The Blonds Collection."
Fashioned after Phillipe Blond, of the famed design duo "The Blonds", this new set of realistic mannequins joins Rootstein's long list of iconic celebrity ensembles that include Twiggy, Pat Cleveland and Erin O'Connor.
Though it is common knowledge among visual merchandisers, very few fashionistas realize that Adel Rootstein, the founder of Rootstein mannequins revolutionized visual merchandising when she combined music, film and fashion with her experimental and avant-garde store windows display.
It was Adel who realized in the 1950s and the 1960s that store windows can be artistic statements while also echoing the zeitgeist of the times. And thus, together with accomplished sculptor John Taylor, they immortalized the iconic beauties of the era which at that time were Imogen, Patti Boyd and of course, Twiggy.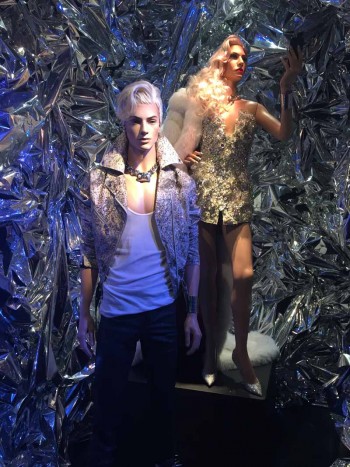 That set the tone for Roostein, which will eventually become the world's leading mannequin designer under Adel's helm. When she passed away in 1992, her long time collaborators Michael Southgate and Kevin Arpino continued her legacy.
Under their direction, Erin O'Connor, Agyness Deyn, Jade Parfitt and Coco Rocha have been immortalized as Rootstein mannequins.
But, the story does not end there. In fact, the beauty ideal is a never ending story. Fashion is mutable, every era has its icon and the 2010s is not an exception. Still, choosing a representative of a period is not an easy task.
"It's about being attuned to the times," said Joe Tate of Rootstein Mannequins when asked how the company chooses who will be the next model. Tate, who was instrumental in choosing Phillipe as the model believed early on that it's about time that fashion and in turn store windows tackle the gender issue. "And Phillipe fits the bill!"
With The Blonds on the New York Fashion Week calendar for several years now, I have to agree. Aside from Phillipe's personal sense of style, The Blonds' collection that David and her present every season easily captures one's imagination. It might not be for the faint of heart, but it definitely catches your attention.
Later in the evening, I finally caught Phillipe Blond in a free moment to ask her how it feels to be considered the iconic beauty of the decade.
In her sultry voice, she answered, "Do you mean how does it feel to be immortalized? It's amazing! I love it! It's the perfect time for it." With her Mona Lisa smile, Phillipe added as she gestured to the mannequins in her image surrounding us, all of them wearing blond wigs, "It's pure madness! The world is a blond."
[MARI DAVIS]