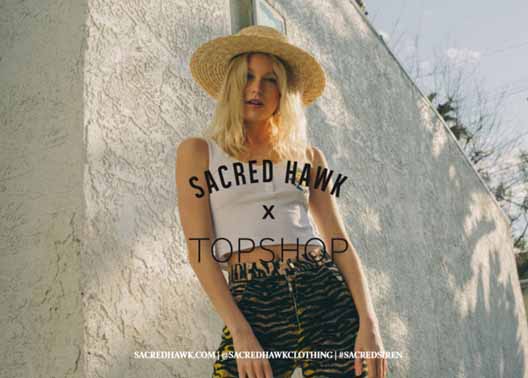 Vintage-inspired clothing brand Sacred Hawk announces today Friday 29th, March 2019 the launch of a capsule collection in selected Topshop stores in the USA. Featuring pieces exclusive to Topshop NYC and LA, new to the Sacred Hawk roster, and customer favorites, the collection epitomizes Sacred Hawk's contemporary-cool brand offering of cute clothing for tough girls.
Born from an obsession with vintage, London-based brand Sacred Hawk pays homage to the past and takes inspiration from the key eras in the 60s-90s, bringing iconic styles and prints into modern focus.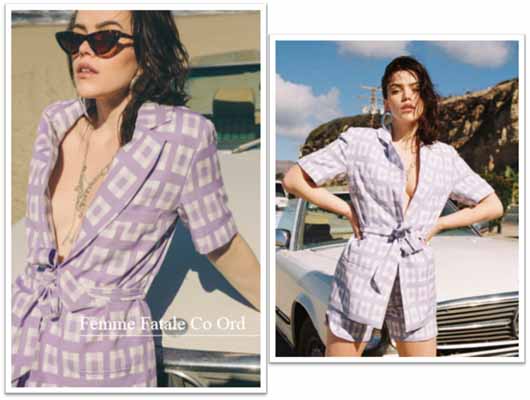 Also available at www.sacredhawk.com and ASOS, the brand's strong aesthetic and voice resonates with its fans, and offers easy-to-wear dresses, casual shapes and co-ords, alongside statement jewelry and accessories and an additional menswear line. The first drop from the Sacred Hawk x Topshop range incorporates dresses, jumpsuits, tops, trousers and outerwear.
Encouraging self-expression and unfiltered creativity, Sacred Hawk clothing is bold but versatile, fusing trend-led design and the uniqueness of a triumphant vintage find. Rebecca Hyde, Founder of Sacred Hawk, says of the launch:
"We're so excited to be working with Topshop to bring Sacred Hawk to a whole new audience. With presence in eight incredible UK locations and two stores in New York and LA, we brought some of our favorite styles to this collection, and the fact that you can't find some of the pieces anywhere else in the world makes this an even more incredible opportunity for us."
The Sacred Hawk x Topshop collection can be found in the following Topshop locations from today Friday March 29th: New York 5th Avenue and Los Angeles.
The brand will permanently have a section at Topshop NYC and LA from now on and we can't wait to shop these amazing pieces! On top of this announcement, the brand is collaborating with Model Tatiana Elizabeth Price who definitely fits the DNA of Sacred Hawk!