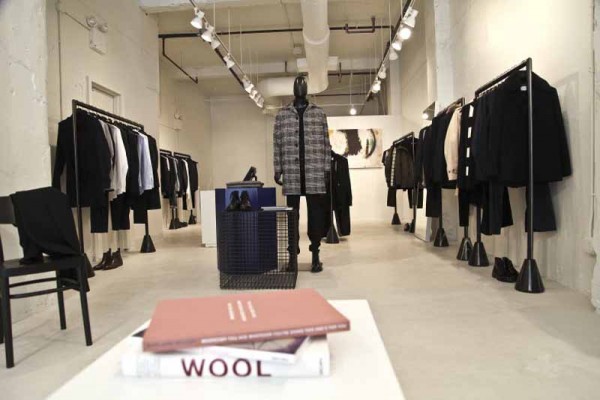 For its first men's only store in the U.S., Sandro opened in September 2014, "The Workshop", a temporary retail space located at 145 Spring Street that eventually merged the first stand-alone Sandro Homme retail space in the United States with an evolving art studio.
The Workshop was inspired by the FW14-15 campaign, shot by Karim Sadli, which tells the story of two young artists and celebrates art & style – a combination that resonates deeply with the Sandro brand.
Spanning over 880 square feet, the Workshop presented the Fall-Winter 2014 collection in a minimalist environment featuring raw finishes such as concrete flooring, whitewashed walls, exposed pipes and industrial studio lighting.
Large-scale prints of the ad campaign and a projection of the campaign video brought rhythm to the space. The Workshop was created to meet the increasing demand for Sandro Homme, which has continuously grown in the United States since being introduced in 2011.
Sandro and Sandro Homme greatly expanded its American retail presence in 2013 with the opening of ten new boutiques nationwide in that year alone, bringing the current count to 17 (including the Workshop).
The company continued its U.S. expansion with the opening of an additional boutique in South Coast Plaza as well as corners in Bloomingdale's and Saks Fifth Avenue in Fall 2014.
Sandro Homme collaborated with emerging contemporary artists to set up live installations every month through the end of 2014. Each artist had a week to utilize the Workshop as their own studio and actively produce art «live» in store, creating a unique experience for clients.
Following the week-long installation, the space then acted as a gallery, displaying the completed works until the next artist-in-residence took the lead.
The tagline «Let Them Paint» was aligned with the vision of the space to be a means of artistic expression. From the walls, to the floor, to the furniture, the Workshop was an entirely blank canvas for the artist to take over devoid of "rules."
Photos courtesy of Sandro