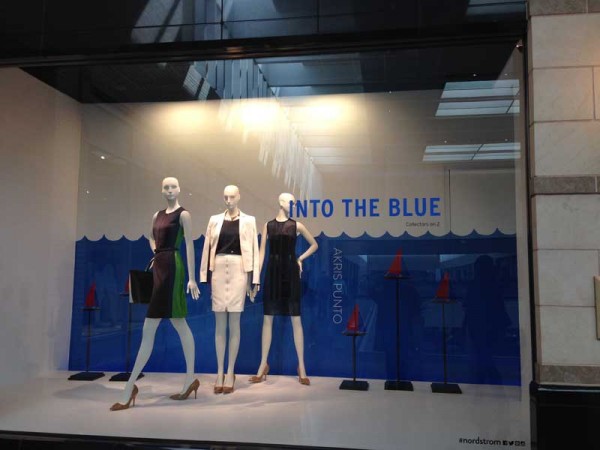 Wait! Didn't we just see this at the Galleria Dallas? Yes, we did. Both Nordstrom locations – the Galleria Dallas and Northpark Center has one of their store windows dedicated to "Into The Blue" one of the promotions that the luxury retailer is doing.
For continuity, national and international retailers keep the theme of their windows the same. Some might disagree with that way of thinking; the detractors saying that visual merchandising has become corporate and no decisions are made at the store level.
Some on the other hand, the marketing and advertising departments to be exact are the supporters of this school of thought. In fact, it is their idea. Their reasoning is sound. The "sameness" makes the customers feel that it is the same store they are going in anywhere they are. And that means customers can expect the same excellent service and the same high quality of the merchandise.
Location: Northpark Center
Date: March 9, 2014
Photos by Mari Davis