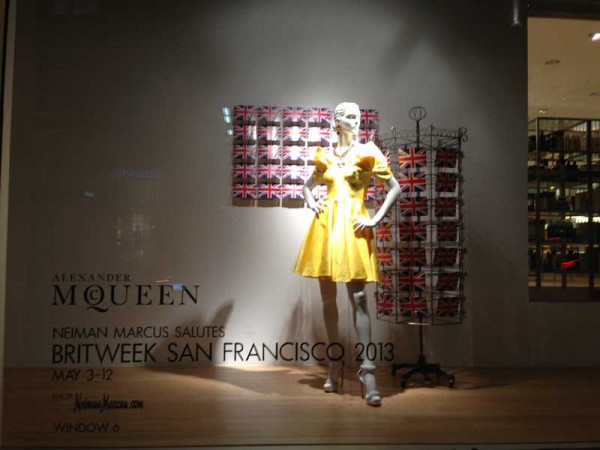 DALLAS, Oct 22, 2013/ — Entitled "Neiman Marcus Salutes BritWeek San Francisco" which was celebrated May 3-12, 2013, luxury retailer Neiman Marcus chose the iconic Alexander McQueen fashion house to feature in its three store windows, which by the way is a great honor for any designer.
With a rectangular collage of the Union Jack, a single mannequin graced the big store window and thus creating the feeling that what on display is very important. These three store windows make you stop and listen to what it is saying.
And just a trivia for fashion followers and to give an idea how the Neiman Marcus Visual Department stayed true to the theme. The mannequin is the Stella Tennant mannequin, which basically means that British model Stella Tennant was the model of this mannequin.
Location: Union Square San Francisco
Date: May 7, 2013
Photo by Mari Davis