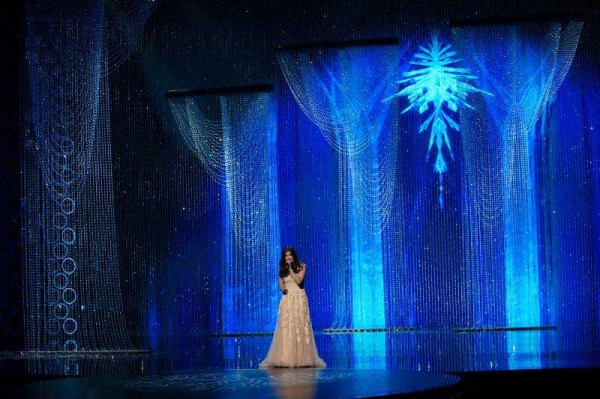 Swarovski crystals played a dazzling supporting role when over 40 million viewers tuned to watch the Oscars and took part in a spectacular celebration of movie-making artistry.
Tony® Award-winning production designer Derek McLane returned to Hollywood's most venerated stage for the second year running to create the dazzling decor.
Once again, McLane collaborated with Swarovski to turn his creative concepts into sparkling scenery. This year, over 164,000 crystals shimmered brilliantly throughout the theater, marking the seventh year that Swarovski has been the key creative ingredient in the set design for the Academy Awards.
McLane ramped up the sparkle and energy in a room already buzzing with Hollywood's top talent. It took thousands of hours to realize his vision, which comprised one grand curtain surrounded by three glorious swags, which together weighed more than 1,800 pounds.
The design process began months before the Oscar nominations were announced, when McLane set about creating unique decorative set pieces. He chose to reinstate the 80 foot wide by 40 foot high crystal curtain he designed as the backdrop to last year's unforgettable performance by Adele of her Oscar-winning song Skyfall.
His finishing touch was the six dazzlingly glamorous crystal "swag drapes", created especially for this year's ceremony by Swarovski technicians, which added brilliance to the stage during the performance of this year's Oscar-winning song "Let It Go" from the animated feature film Frozen.
View exclusive behind-the-scenes footage of the creation of the 2014 Oscars set www.swarovskigroup.com