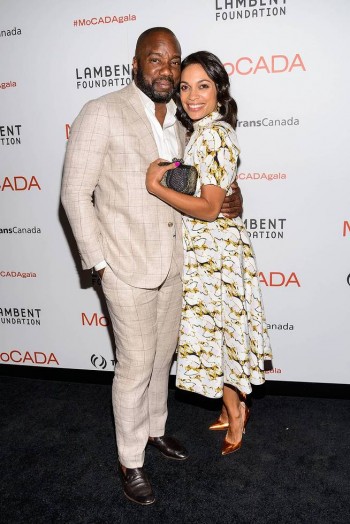 NEW YORK, May 16, 2015/ — The Museum of Contemporary African Diasporan Arts (MoCADA) celebrated its 15th anniversary of serving the community through the arts with its inaugural MoCADA Masquerade Ball.
Held 14 May 2015 at the Brooklyn Academy of Music (BAM) Lepercq Space, this annual Spring Gala was also a fundraiser that will benefit the museum as it embarks upon a new capital campaign to raise monies for community programs and to fund the development of a new larger museum in Brooklyn.
Attendees included: Rosario Dawson, Jesse Williams, Estelle, Malik Yoba, Tonya Lewis Lee, Phillip Agnew, Bevy Smith, Cynthia Bailey, Jill Zarin, Grace Mahary, Eiley Montana, Gbenga Akinnagbe, Mashonda Tifrere DJ Kiss, Kirk Douglas, Emil Wilbekin, Ariel Foxman, Borough President Eric Adams, Assemblyman Joseph Lentol, Assemblyman Walter Mosley, Council Member Laurie Cumbo, State Senator Jesse Hamilton, Kehinde Wiley, Sharon Carpenter, Chantelle Fraser, Geneva Thomas, Simba, Deborah Willis, Delphine Diallo, Tim Okamura, Ayana Jackson, Charles Harbison, Juliette Jones, Kyle Hagler, Maria Brito, Nicole Fuller, Nicola Vassell, Ouigi Theodore and Roberta Annon.
The MoCADA Masquerade Ball celebrated individuals who have positively influenced the Contemporary African Diasporan Arts and the community, including Tonya Lewis Lee and Spike Lee with the Philanthropic Advocacy Award; Mickalene Thomas with the Artistic Advocacy Award; Phillip Agnew and the Dream Defenders with the Social Justice Advocacy Award, and TransCanada with the Corporate Advocacy Award.
Photos courtesy of MoCADA