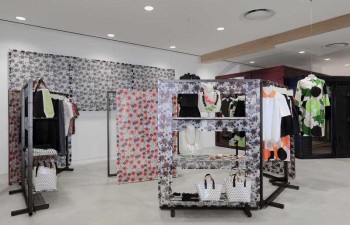 For #ThrowbackThursday or #TBT, we are going back to March 2012 when Marni opened an outpost at the Dover Street Market in Ginza, Tokyo.
That Marni space had been designed exclusively for Dover Street Market which was developed based on the MARNI EDITION concept stores.
The Dover Street Market space is characterized by modular and stackable elements. This peculiarity allows to compose different display alternatives and to renew the display layout constantly.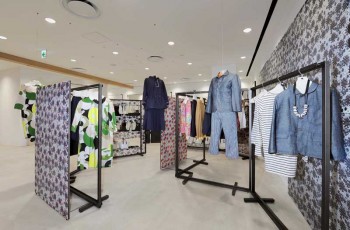 Rough steel free-standing structures in tubular have been finished with a matt transparent lacquer. Those structures can be assembled through brushed stainless steel hinges screwed on its ends allowing a continuous rail composed by several elements or a single element within the space.
A backdrop is created by perforated metal panels with exclusive graphics of 2,4 m fixed on the back wall or standing in the centre of the space. Natural fibreglass mannequins float in the space at different heights.
The MARNI space carries exclusive products: items and fabrics have been especially created for Dover Street Market, Ginza. The display versatility and the scenographic effect, given by the modular elements reaffirm the MARNI EDITION STORE concept and the choice to experiment and make room for new experiences.