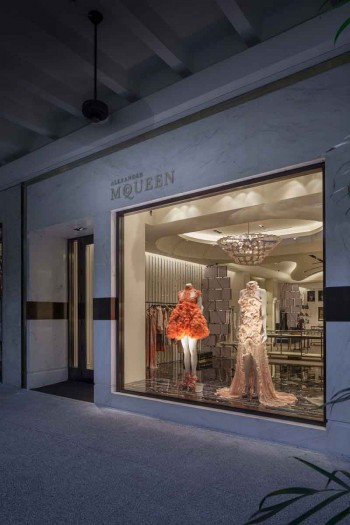 #TBT: On June 7, 2012, Alexander McQueen opened in Miami, Florida making the launch of a new store concept conceived by Sarah Burton and Alexander McQueen and realised together with David Collins Studio. It will promptly be rolled out across Alexander McQueen stores worldwide.
"It's about McQueen as a point of view, the idea of making a dress out of razor clam shells or sheaves of corn, the manipulation of nature to make ornament. We were thinking about eroticism and sexuality. Everything is exaggerated and very slightly distorted," said David Collins about the store.
"It's very McQueen to see something from a distance and think it's one thing and then to look up close and discover something else. It's important to us that everything in the stores feels very precious," was Sarah Burton's comment.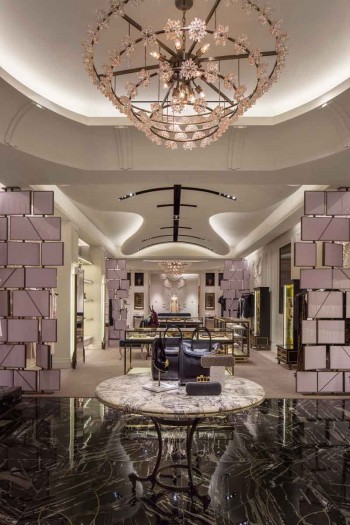 Inspired by flora and fauna, real and imagined; the warped perspective of Francis Bacon's paintings of
Popes; the Surrealist artist HR Giger; the architecture of Antonio Gaudi; the Eighteenth Century salon and Rorschach ink blots; primitivism, the human skeleton and the female form.
There are references to Alexander McQueen signatures throughout the store. In particular, the curved seams of a heritage tailored jacket, smashed porcelain show pieces and the "armadillo" shoe are echoed in everything from ceiling rafts to plaster panel mouldings and flooring.
The 212 square metre space is over a single floor and houses women's wear and accessories. The storefront is clad in grey and white Calcatta Oro. The floor is smashed and re-assembled Nero Argento marble. A "pinched-waist" raft is suspended from the vaulted ceiling.
Walls are covered in lacquered linen, silk and white rubbed Gesso. A sense of rough luxury is established. Moulded plaster panels feature a cornucopia of wings, shells, cactus flowers, mushroom gills, seahorse tails, tangled leaves and more. Tiny skulls and grimacing gargoyles nestle in their folds. An apparent symmetry is subtly disrupted.
Blush-pink glass lighting echoes the organic lines of the coral reef. Mirrors are gilded silver and gold. Velvet soft furnishings feature solid bronze animal feet: gazelle hooves and monster claws. Hanging rails are crafted in black lacquer and aged brass. Stained grey wood shelving is suspended from polished brass "monkey" chains. Shoes are displayed on circular "fetish" tables.
Colours are predominantly pale: dove grey, flesh, lilac, soft gold, and all the shades of white.