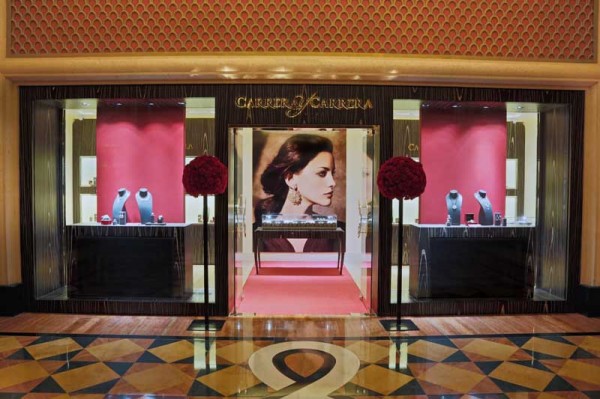 #TBT: On September 12, 2012, Carrera y Carrera marked a milestone on its international development with the opening of its Dubai boutique.
The opening in Atlantis The Palm was attended by Mrs. Nathalie Guedj, CEO of Carrera y Carrera , Mr. Arif Ben Khadra, Chairman of Levant, and Mr. Manuel Carrera, founder of the brand, who kindly attended press and customers and officially opened the boutique. He also offered a live master-class on the process of creating a jewel.
Carrera y Carrera, the internationally-renowned Spanish jewelry firm with unique and exquisite designs, is considered one of the most prestigious in the world. Present in over 40 countries, the company has subsidiaries in the United States, Japan, and Russia, and boutiques in Madrid, Barcelona, Tokyo, Moscow, Dubai, and Kuala Lumpur, among others.
This iconic brand is characterized by a unique style and precise designs where the combination of a matte-shine effect on gold, work in volumes, and meticulous craftsmanship make for exceptional jewelry pieces where gold and precious stones come to life.