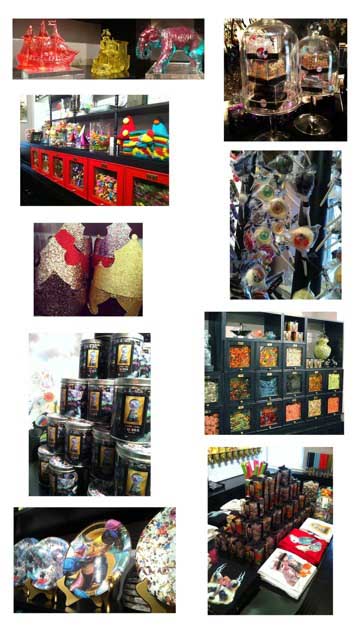 #TBT – On Feb 26, 2013, right after New York Fashion Week, Cynthia Rowley opened her newest retail location at 78th Street and Madison Avenue in Manhattan's Upper East Side.
The four-story townhouse is entered through a gated courtyard which renowned event designer Ra'lvila has transformed into a twisted, overgrown, visual fantasy that hints at the experience to come.
The first floor houses her eponymous boutique with an array of apparel and accessories she is known for. Customers are drawn up the enchanting staircase with an invitation to imagination. Tim Burton's Alice in Wonderland meets Willy Wonka in a curated assortment of confections.
From custom piatas and party decor to hard candy figurine centerpieces, the CuRious experience promises to surprise and delight. The CuRious staff, wardrobed in noir-ish, fitted uniforms with lacey collars will spin you a tuft of black licorice cotton candy.
Also included in the product assortment, are the edible place settings which were featured in the CuRious short film,
The top two floors are seen by appointment only and house the company affiliated, limited edition, online art business, ExhibitionA.com.
CYNTHIA ROWLEY
43 East 78th Street
New York, NY 10075
Tel: 212.288.1141
Friday -Saturday: 10am to 8pm
Sunday -Thursday: 10am to 7pm
www.CynthiaRowley.com
www.CuRiousCandy.com