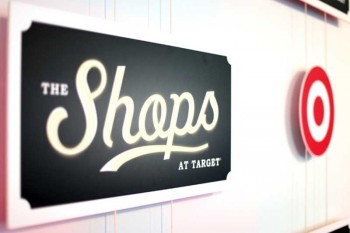 Two years ago, on May 6, 2012, Target, via its online magazine – ABullseyeView.com, announced that for Fall 2012, it was partnering with four boutiques—New York's Kirna Zabete and Odin, San Francisco's The Curiosity Shoppe and Boston's PATCH NYC—to co-create exclusive apparel and home collections for its guests.
The collections debuted Sept. 9 at all Target stores and Target.com. It was only available for a limited time. The fall installment of The Shops at Target featured more than 230 exclusive products from four shops.
The Curiosity Shoppe at Target
Established in 2007 by San Francisco couple Lauren Smith and Derek Fagerstrom, The Curiosity Shoppe is located in the city's Mission District. A local charmer with a warm, inspiring atmosphere, The Curiosity Shoppe's eclectic array of home accessories, gifts, crafts and games seek to encourage the creativity of its patrons.
The Curiosity Shoppe at Target collection featured fun and interesting items from kitchenware and decorative pillows to novelty pieces such as stationery and games. Prices range from $3 to $25.
Kirna Zabete at Target
The SoHo outpost of Kirna Zabete was founded by University of Virginia sorority sisters and best friends for more than 20 years, Sarah Easley and Beth Buccini. In 1998, they left their careers to create a retail concept that showcased who they believed to be the best fashion designers of today and tomorrow.
With nearly 100 pieces, ranging in price from $9.99 to $199.99, Kirna Zabete at Target reflectrf an urban-chic sensibility and includef dresses, a genuine leather moto jacket, skirts and blouses in graphic prints and textures, as well as lace tights, scarves, hats, handbags and jewelry.
Odin at Target
Founded in 2004 by Edward Chai and Paul Birardi, Odin was one of the first lifestyle stores dedicated to men. Today, with three locations in New York City, Odin carries high-end lines from well-known and emerging designers and includes an array of sophisticated, yet approachable menswear and accessories.
With nearly 20 pieces, ranging in price from $14.99 to $99.99, Odin at Target helped men easily incorporate style into their wardrobes with must-have items such as tailored pants, jackets, knit accessories and a chic weekender bag.
PATCH NYC at Target
PATCH NYC was established in New York City in 1997 by designers Don Carney and John Ross. After closing the store and moving to Boston, Don and John reopened PATCH NYC in Boston in 2010 where they offer a selection of art, home décor, candles, jewelry, scarves, as well as items from their exclusive lines, which are sold at specialty stores worldwide.
PATCH NYC at Target featured nearly 50 items, priced from $9.99 to $119.99. The collection reflected the shop owners' affinity for rediscovered objects, travel and the outdoors, and features a treasure trove of pieces including barware, bedding, tabletop and accents for the home.