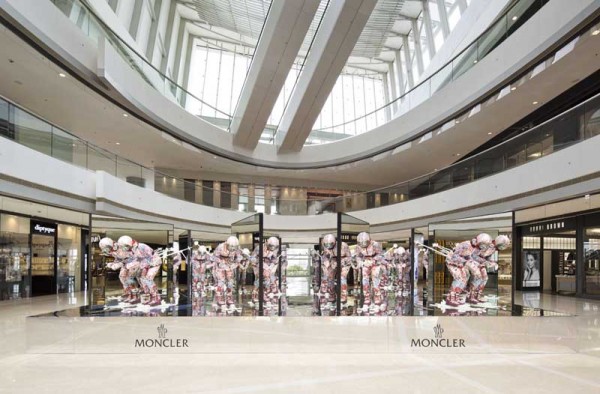 #TBT – At the central and prestigious IFC mall in Hong Kong, Moncler set up an exhibition from the 17th to the 21st September 2013.
Thirty-two skiing mannequins will be dressed with the Moncler M collection in collaboration with the Greek designer Mary Katrantzou who made her mark in the London fashion scene as the most promising upcoming designer.
The oriental patterns of the duvet jackets are reflected by thirty-two mirrors that multiply the skiers to infinite repetitions.
Moncler M, presented for the fall/winter season, is a collection in which the experimentation does not stopat kaleidoscopic patterns, but also works on contrasting volumes and materials.
The models alternate close-fitting silhouettes that hug the body featuring thought-out sensuality with couture bustiers, to a maxi version constructed using sumptuous nylon spirals with an asymmetrical hem.
The technical appearance of the fabrics is enhanced by fur inserts, which are also used to provide a sculptural take on the proportions of the various garments.