LONDON, Sep 25, 2014/ — After successfully unveiling her Spring 2015 collection in New York last week, Victoria Beckham opens her first store at 36 Dover Street, London W1S 4NH.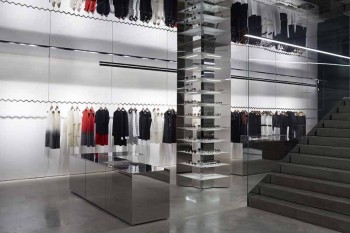 Designed by multi-award-winning London-based architect Farshid Moussavi, the three-storey Mayfair space brings together the refined materials, artisanal craftsmanship and modern design language for which the fashion brand is recognised in a bold and elegant environment.
Taking Dover Street's Georgian façades as a departure point, the building's front door is cast in concrete to echo the proportions of the first floor windows. It slides open automatically to reveal a fluid space inside, where grand, graphic statements are offset by delicate details and luminous surfaces.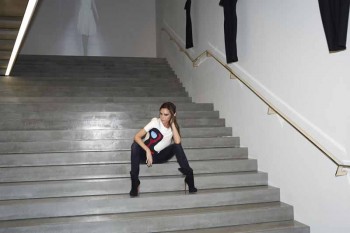 The eye is drawn to an imposing flight of 4-metre-wide polished concrete stairs leading to a giant projection on the first floor's end wall and the spectacular cast-concrete latticed ceiling above.
By boldly cutting away diagonal portions of the floor plates on the upper and ground levels, Farshid Moussavi Architecture (FMA) has united all three floors of the 560-square-metre space, bringing luminosity and striking sightlines through the interior.
Elegance and ingenuity underpin a flexible interior scheme devised to complement rather than overpower the clothing on display.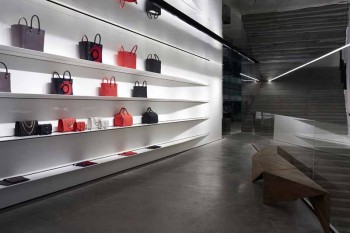 Wafer-thin shelves retract into walls and moveable blonde gold hanging chains are set in recess tracks to make way for installations, events and developments in the five different Victoria Beckham collections of Victoria Beckham ready-to-wear and Victoria, Victoria Beckham, Accessories, Eyewear and Denim.
Smooth American walnut and bottle green glass surfaces accentuate generous changing rooms and cash/wrap areas, designed for a discreet and personal shopping experience.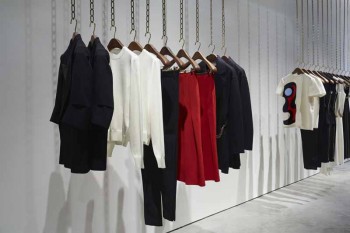 The warmth of these materials is reflected throughout the store in pristine mirror stainless steel that lines walls as well as the ceilings of the ground and lower-ground floors, and creates immaculate counters for folded apparel and accessories.
The four facets of the ground floor's load-bearing columns are clad with vitrines to create prominent sunglasses pillars. Freestanding furniture is bespoke; modular, triangular seating is hewn from a single piece of walnut.
The first in a series of own-name stores planned, 36 Dover Street builds on the launch of the Victoria Beckham e-commerce site www.victoriabeckham.com in April 2013.
Victoria Beckham has personally selected pieces for the store's launch, several of which are unique to 36 Dover Street and victoriabeckham.com customers, together with exclusive sunglasses styles.
A range of small leather goods is also introduced for the first time, including a small and large pocketed pouch, a journal, a wallet, a credit card holder, key rings and key chains – all produced in soft calf.
Photos courtesy of Victoria Beckham