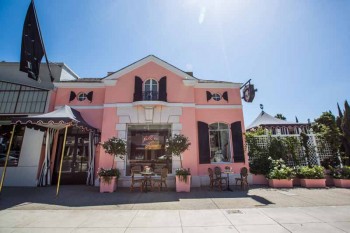 LOS ANGELES, Oct 9, 2014/ — Known for its dreamy clothing, Wildfox opens its first flagship store on Thursday, October 16, 2014 at 8710 Sunset Boulevard, Sunset Plaza, West Hollywood CA 90069,
Located at the iconic Sunset Plaza shopping district of Los Angeles, CA, the 2,000 square foot space will showcase the brand's iconic ultra-soft, graphic tees, jumpers, dresses, and bottoms, angora blend sweater knits, eyewear, denim, swimwear as well as the full Kids range.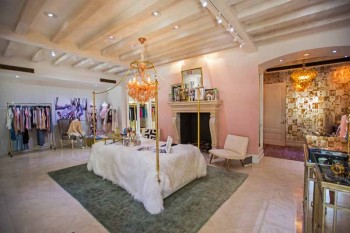 "We are thrilled our customers finally have the opportunity to experience all of our products in one place," comments Wildfox CEO Jimmy Sommers.
"The flagship location will always carry the newest and widest assortment of styles. The space is meant to feel like walking into the ultimate Wildfox girl's dream closet. The look of the store will change with the release of every collection so I want customers to experience each campaign photo shoot brought to life," Mr. Sommers added.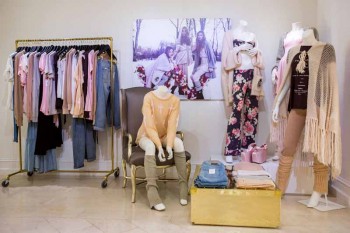 Based in Los Angeles, Wildfox was founded in 2007 as a womenswear label. Known for its iconic campaigns, dreamlike quality, and clothes that tell a story, the brand has grown to include categories outside the core knitwear range, including Denim, Essentials, Intimates, Kids, Pajamas, Sun, Swim, and a White Label collection of luxuriously soft sweater knits, laces, chiffons, velour, and sequins.
The Los Angeles flagship is the first store to be launched with additional U.S. locations planned for Malibu, New York, Miami, and Chicago. In partnership with Elizabeth Arden, the brand is set to introduce its first fragrance for summer 2015.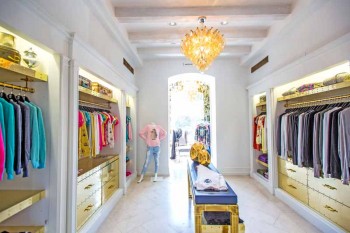 Designed by Katie Hurley, Owner and Founder of Fineas+Clover, the Los Angeles flagship's décor is best described as an eclectic fusion of locally sourced, vintage pieces with modern accents.
Expertly blending antique Mastercraft brass tables and delicate vintage china displays complemented by etched filigree mirrors and hand blown glass chandeliers, the interior transforms the Wildfox personality into a physical space patrons can experience on an intimate level.
The interior boasts 15 foot beamed ceilings, travertine floors, a fireplace, and patio cabana, which will serve as an area to enjoy a cup of tea or coffee.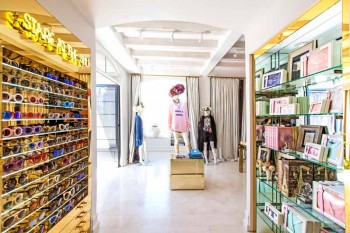 Lining the walls of three shag carpeted dressing room areas is custom wallpaper featuring collages of the brand's most iconic campaign imagery in a sepia tone topped with a shiny, metallic coating.
The exterior façade is characterized by Wildfox's signature peach-pink color, black and white awnings and a pink neon sign in the center front window which reads "Fall in Love" – a slogan the brand has used since one of its first seasons.
Launching exclusively in-store for holiday season, customers will be able to completely customize their own sunglasses by pairing any existing frame with a lens finish of their choice.
Leenabell jewelry designer, Monica Stanley, has several of her collections available for purchase in the Wildfox store. Ranging from dainty to chunky, vintage to modern, and fine to custom, price points are between $100-1800.
Wildfox Flagship Store
8710 Sunset Blvd
Los Angeles, CA 90069
Hours: 11am-7pm Sunday-Thursday and 11am-9pm Friday & Saturday
Tel: +1 310.855.9030
www.wildfoxcouture.com
Photos by Elizabeth Daniels, courtesy of Wildfox