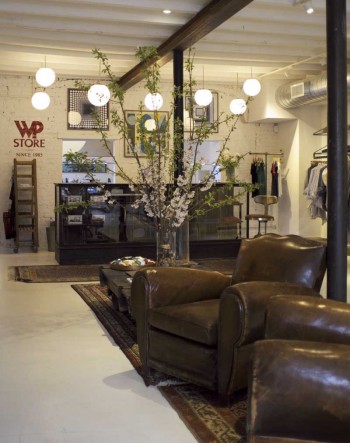 Bologna, Italy-based WP Lavori in Corso just arrived in America via Brooklyn with the opening of its first North American flagship store at 225 Smith Street in the Cobble Hill neighborhood of historic South Brooklyn.
Measuring 1700 square feet, the new WP Lavori in Corso outpost features an assortment of fashion and lifestyle products from around the globe and marks a significant step for the company's presence in the U.S. market.
The exclusive licensee and distributor of storied brands Woolrich John Rich & Bros (worldwide license), Woolrich Woolen Mills (worldwide license), Penn-Rich (Italian license), Baracuta (owned brand), BD Baggies (owned brand), Barbour (Italian distribution) and Blundstone (Italian distribution), WP Lavori in Corso has established a distinct aesthetic and business model that is founded on reviving and nurturing great heritage brands since it opened its first store in 1985.
The WP Store Brooklyn brings its unique retail concept to North America and features a selection of the WP Lavori's curated brands, including Woolrich John Rich & Bros., Baracuta, BD Baggies, and Blundstone, as well as third-party brands such as Engineered Garments, Nanamica, Hudson, Velva Sheen, Shinola and Barena.
"North America has always been an important market for us; many of our owned brands are rooted in American traditions and style," said Cristina Calori, founder and president of WP Lavori in Corso, citing Woolrich and B.D. Baggies.
"WP has always honored craftsmanship, tradition and history and we are thrilled to be opening our first North American flagship in Brooklyn, a community that also reflects these values."
WP Store Brooklyn is located at 225 Smith Street, in the former Smith + Butler shop. The previous retailer, known for stocking both cutting-edge and iconic heritage brands, closed their doors late February, leaving WP Lavori Brooklyn to carry out their global influence and community presence as leading retail store.
Plans for the North American market include additional retail units and an international retail development in Europe and Asia, after the recent opening of the first WP Store in Seoul. A specific retail development for Woolrich John Rich & Bros for U.S. will be announced in the next months. More information about WP Lavori in Corso is available on WPLavori.com and WPstore.com.